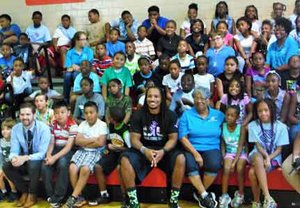 ANNAPOLIS, Md. — It is not every day that local youth have an opportunity to meet a Super Bowl winner, spend time discussing topics like leadership and education, and even play dodgeball after completing a community service project. Members of the Boys & Girls Clubs of Annapolis & Anne Arundel County (BGCAA) were afforded opportunities of mentorship, hands-on community service and fun, through a partnership with Usama Young and BGCAA. Young is a free agent who is approaching his 8th season in the NFL. He won the Super Bowl XLIV title with the New Orleans Saints in 2009. Young founded the Usama Young Youth Foundation that same year, then later launched a rebranded nonprofit called Believe in U (BIU). According to the website, the organization aims to "empower disadvantaged youth, including those with disabilities or those from non-traditional families and underserved communities."
On June 26, 2015, a day of community building kicked off in Annapolis at Wiley H. Bates Heritage Park as a part of BIU's Annual Charity Weekend. Young challenged six to 12-year-old BGCAA campers who sat on bleachers in Bates's gymnasium to look ahead toward the future.
"Do any of you have goals? Do you know what you want to be?" Young asked. "When I was in school, my teacher asked me the same questions."
Several hands raised in response to Young's inquiry. The athlete and philanthropist listened to replies as his wife, Gia Young, and other BIU volunteers stood nearby. As residents of Charlotte, N.C., the Youngs give back locally and nationally, by providing interactive programming that inspires personal growth. However, Usama's roots are local.
Usama was born in Washington, D.C. and is a graduate of Largo High School in Prince George's County. The veteran NFL player's career highlights impressed many campers, but Usama offered a practical message of valuing education, reminding youth that hard work is required to become successful.
"I want to let you all know, whatever goals ya'll have, whatever aspirations ya'll have, keep on working at it. Don't let anyone tell you that you can't accomplish it, ya'll got that?" Young said.
The professional athlete also acknowledged the importance of having a backup plan. During a Q & A, Usama mentioned a knee injury, but expressed his love for teaching and helping youth through BIU.
"I just wanted to know where we could serve. My wife and myself were thinking about what we wanted to do for my charity weekend this year. This is a part of it. We said every year we've been going to the Capital Area Food Bank in D.C. We've been going to that food bank, filling up their pantry and doing different things with them. I said, 'This year, let's step outside of the box,'" Usama later said.
Along with selected BGCAA campers, staff and members of BIU, the athlete's local visit continued with a trip to the Light House Shelter in Annapolis, where they delivered food. Young then headed to help beautify two residences in the Freetown Village community, located in Glen Burnie, Md. Freetown Village Boys & Girls Club members and volunteers ate lunch at the club before delivering supplies to selected homes. Usama and BIU volunteers planted rose bushes, plants and weeded along with youth volunteers. The event marked the first time that the majority of BGCAA members participated in a beautification project.
"This event allows the kids to think about the community, and put the community before themselves," Steven Cornette, CEO of BGCAA said.
Usama said that importance of giving back was instilled in him at a young age. And through lessons he learned, the NFL veteran tries to pass along valuable wisdom to budding leaders.
"Since I was little, I have memories of going out to the [Washington] Monument and the [National] Mall right across the street from the White House, where there were so many homeless people. My parents had me serving meals. We would make sandwiches, make hot soup during the winter months, and give back to them, and we didn't have that much," Usama said. "So for us to be able to give to others, and not having everything ourselves, it was something that was near and dear to me, and something that has always been important to me. Now, I have a platform to serve. I'm going to do it as much as possible."