Originally published 4/1/2017 at 12:00p.m., updated 3/28/2017 at 10:54a.m.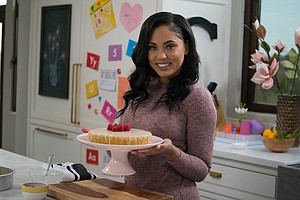 Ayesha is switching things up and having breakfast for dinner, or as Ayesha calls it, brinner! She's treating her girlfriends to a girls' night pajama party, complete with a breakfast menu that's sure to knock their slippers off. Ayesha is starting this party off right with a Frozen Mint Mocha Frappe Cocktail, Bacon Breakfast Bread Pudding Cups, and a Dutch Baby Pancake with Blueberry Orange Compote that's sure to impress the ladies. Ayesha also has a simple hack to turn premade cinnamon roll dough into Cinnamon Roll Stuffed Pears with Cinnamon Clove Icing that her guests will love.
Premiering Sunday, May 21st at 12:30pm ET/PT
"Ladies' Lunch"
Ayesha has a fresh and citrusy menu planned for a light ladies' lunch with her mom and sister-in-law, Sydel Curry. Raising two young girls while being a busy working mom has its challenges, but you know what they say, it takes a village. So, to say thank you for all their help with the kids, Ayesha is treating her mother and sister-in-law to a delicious lunch complete with Lemon Caper Salmon, Toasted Almond Cauliflower Rice and Sweet Pepper Goat Cheese Bruschetta. Ayesha also has a simple hack for an Easy Lemon Olive Oil Cake with Lemon Glaze and a Rosé Spritzer that will hopefully make everyone feel as appreciated as they really are.
Premiering Sunday, May 28th at 12:30pm ET/PT
"Southern Barbecue"
When Stephen Curry's four aunts get together, it's bound to be a rowdy time. The four ladies are visiting from North Carolina and Ayesha is excited to welcome them with some Southern Barbecue inspired by the family's southern roots. Ayesha starts the menu off with a Quick Carolina Pulled Pork that is ready in under an hour, but tastes like it cooked all day. Ayesha is topping her pork with a Cider Vinegar Slaw and serving it alongside a Grilled Peach Salad with Bacon Vinaigrette, and Hush Puppies with Lemon Herb Butter that's sure to remind Stephen's aunties of family cookouts back in North Carolina. Ayesha's Cider-Berry Moon Cocktail goes down just as easily as it is to make Stephen's aunts' all-time favorite dessert, Red Velvet Fried Sandwich Cookies.
Premiering Sunday, June 4th at 12:30pm ET/PT
"Family Favorites"
Ayesha is celebrating her two favorite women in her life: her mother, Carol Alexander, and grandmother, Gwendolyn Lewis, by recreating some mouth-watering memories with her family favorite recipes. Ayesha's love of delicious dishes from around the world has always been part of her life, trickling down from her mother and grandmother's Jamaican roots; To honor them, Ayesha is making them Jamaican Snapper Sliders with a Sweet Mayo and Escovitch Vegetables, along with some Jerk Spiced Baked Plantain Chips. Ayesha also has a No Churn Passion Fruit Ice Cream with Rum Vanilla Caramel Sauce that could not be easier, and a Ginger Hurricane Rum Cocktail that is going to remind all the women of their island heritage.