Originally published 4/14/2017 at 06:00a.m., updated 4/13/2017 at 02:53p.m.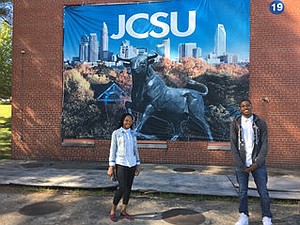 For ages, there has been meaty discussions in the African-American community around the topic of whether it is culturally necessary to attend a Historically Black College and University (HBCU). One side says attending an HBCU puts limitations on students' worldview— especially for those looking to compete globally in careers and professions commonly secured by non-blacks.
Maryland native and business owner Kim Hinton encouraged her son, Kris, not to attend a HBCU. Kris grew up in an affluent community and was accustomed to seeing African American doctors, lawyers and business owners, according to Hinton. Hinton said what Kris lacked was diversity and an authentic look at what he will face after graduating from college. Currently, he attends the University of Maryland, School of Architecture where out of the 160 students he is one of 10 African American students. Hinton's concern is that her son needs to know how to interact with his future peers who are not predominately African American.
Although Hinton attended an HBCU, she later earned an MBA from a non-HBCU school. As the pendulum swings to the other side, HBCU advocates cite the importance of noticing that HBCUs are mainly responsible for graduating students who were well-rounded enough to integrate the fields— the high compensating and socially superior professions— that were traditionally closed to people of color in the first place. It is argued that attending an HBCU helps students develop a strong sense of who they are as part of a cultural group that has been, and continues to be, systematically marginalized by society.
"A black American student would be unlikely to obtain an accurate worldview and self-knowledge at a predominately white college," said Charles Reaves, an auditor supervisor in Washington D.C., who graduated from Howard University's School of Business, with a bachelor of business administration in finance. A quality education is obtainable in either environment but I believe the additional enrichment at my alma mater [Howard University] gave me a competitive advantage over my peers attending non-HBCUs."
During his undergraduate studies, Reaves says he was taught by professors who believed in his potential and inspired him to perform well in courses that struggled with or failed during his high school years, such as calculus and analytic geometry. Reeves earned a MBA from University of Michigan.
The HBCU, many argue, trains students how to negotiate their seat at the table as the Black and White dissolve into color and overt injustices evaporate into subtlety. The sense of pride students generally get from the HBCU experience is unparalleled and advantageous to African American students in the grand scheme of things.
This is why Caring For Young Minds Foundation (CFYM), hosts its annual HBCU tour, an educational initiative open to middle and high school students who have a desire to attend college. Entering its 20th year of service, CFYM has guided hundreds of students on an annual HBCU tour. Expanding its programs and services to the community, the organization's mission is to empower youth and provide them with resources through mentoring, strategic planning, educational enrichment programs and cultural activities.