Originally published 4/16/2017 at 03:30p.m., updated 4/16/2017 at 12:57a.m.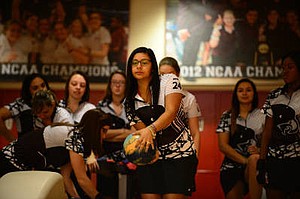 BATON ROUGE, La.—During Saturday's elimination match against Nebraska in the NCAA Tournament, the University of Maryland Eastern Shore was facing a difficult situation, trailing 3-1 to the five-time NCAA champions.
The Hawks showed what they are made of clawing back to a 3-3 tie, but then fell 100-88 in a five-frame rolloff when a controversial rules violation by the Cornhuskers created in a 167-167 tie in Game 7.
The result wasn't what the Hawks have been striving for all season, but how they rebounded when their backs were against the wall — and how they respond moving forward — will go a long way toward shaping the team's future.
"Day 1 was a struggle, but we took what we saw and we learned from it," freshman Cayla Hicks said. "Each night, we had meetings as a team to figure out what we needed to do mentally and not just physically, so that we could be there for each other. It showed Friday and it showed today. No matter what happened — no matter the outcome — we were going to be there for each other, all 11 of us."
The Hawks (88-46) dropped the first game 203-179 after leaving two open frames. In Game 2, freshman Brigitte Jacobs struck in frame nine and graduate student Thashaina Seraus (Oranjestad, Aruba) struck out in 10 to grab a 204-191 victory.
Nebraska took Games 3 (246-175) and Game 4 (221-212) to put itself in the driver's seat with a 3-1 lead. But The Shore wasn't finished.
"We worked hard all season," Hicks said. "We knew where we wanted to go and we got to this point. We just needed to work hard and we did that today."
Melanie Copey set the tone for Game 5 with a strike and then went back-to-back with Jacqueline Rhoda in six and seven to help the team to a 190-186 win.
Eastern Shore tied it up 3-3 with a 189-186 win as the two went back-to-back again to start Game 6 and Rhoda added another in the seventh frame.
Game 7 got away from the Hawks quickly after a few early missteps put them an insurmountable hole and they struggled to finish strong under the heavy emotion of that realization. But a Nebraska bowler was found to have left the match in Game 6 and then thrown practice shots, so the 'Huskers vacated her points in frames two and seven of Game 7. That turned a 235-167 win, into 1167-167 tie.
That gave the Hawks one more shot to advance, but Nebraska made enough strikes to offset the zero they were forced to take in the second frame of the rolloff.
Nebraska went on to beat Vanderbilt in two straight matches and will face off with McKendree in the championship final.
"I thought that just making it here was a big statement for the squad," coach Kayla Bandy said. "For them to make it to the national championship was Step 1. Step 2 was getting here and actually being able to perform. The first day we did not come to perform. We had a lot of nerves. We got past it going into the second day. We went from averaging 180 the first day to 200 the second day. There is a lot to be said about the development of this squad in a 24-hour period."