Originally published 4/16/2017 at 03:30p.m., updated 4/16/2017 at 12:57a.m.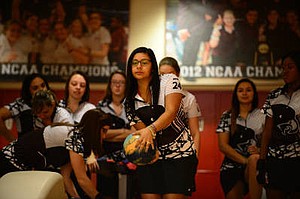 For a squad that hadn't seen the NCAA Tournament in two seasons, Bandy knows that Saturday's loss is something to build on rather than mourn.
That's what the team has done all year.
"We got more confidence as the season went on," Hicks said. "We got more confidence in each other and ourselves. Every ball we threw, every tournament we went to we grew as a team and we grew as players. The place we are now mentally and physically we are the tightest we have been and we are a very deep team. We are always there for each other on and off the lanes and in the classroom."
It's that team bond that will continue to mold the Hawks moving forward.
Saturday was the final NCAA competition for Seraus. That means replacing and anchor and a leader next season, but Copey — who came up big repeatedly on Saturday — and Jalesa Johnson seem poised to step into a leadership role next season.
"We are losing Thashaina, who has been tremendous for our program," Bandy said. "She was my first recruit at Maryland Eastern Shore, so it pulls at the heart strings for her to go about pursuing further education or a career and the professional tour."
And then there is the meat of the roster made up of sophomores who arrived in Princess Anne last season and were determined not to watch the championship from home for a second year.
"The six sophomores this year did an amazing job rebounding from last year," Bandy said. "We saw their growth skyrocket from Day 1 until now, so just for that (2015-16) freshman class alone that are now sophomores going into their junior year next year — the sky is the limit for them."
Hicks and Jacobs, made up the freshman class this season and both made a significant contribution to this year's squad and have bright futures.
"They were bowling a good percentage of the days here at the national championship, so they now have national championship exposure," Bandy said.
Hicks saw first-hand what last year's freshman class did this year and feels like she and Jacobs are ready to do the same.
"You could tell this year that they wanted it and they wanted to fight every single shot," Hicks said. "It showed today. It showed all weekend and it showed throughout the whole season. I think (the team) can grow from this year to next year. We'll have that same drive to want it and want to get better and make national championships again and go further."
The Hawks have won the NCAA Championship three times: 2008, 2011 and 2012. The program also boasts two USBC Intercollegiate Team Championships: 2011 and 2013.
The team will remain in Baton Rouge to compete in next week's USBC Intercollegiate Team Championships. Rhoda will also compete individually in the USBC Intercollegiate women's championship.
"Every day is a new day and we just get better and better with practice or tournament no matter what it is," Bandy said. "So, the future is very bright for Maryland Eastern Shore bowling."