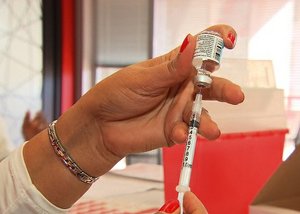 (CNN) — Flu activity decreased slightly but remained at high levels across the United States during the week ending February 18, according to a report based on preliminary data issued Friday by the Centers for Disease Control and Prevention.
Most states saw widespread illness, with cases reported in all counties. In Montana, Oregon, Tennessee, Washington, Hawaii, Utah and the District of Columbia, only regional, local or sporadic activity was reported during the week.
"The center of the country and over toward the east is being hit harder right now, for sure," said Lynnette Brammer, an epidemiologist in the influenza division of the National Center for Immunization & Respiratory Diseases at the CDC. She added that the data showed the Northwest being "hit pretty hard" earlier, but now, numbers are coming down.
"Not to say they couldn't have a second peak, but they look like they're a little farther along in their outbreak than the rest of the country," Brammer said.
What is unusual about this season is who has been ending up in the hospital.
A total of 9,444 flu-associated hospitalizations have been reported, and, unexpectedly, the second-highest percentage of people hospitalized is in the 50- to 64-year-old group. The highest proportion has been among the 65 and older group.
In past seasons with the same predominant flu strain, "the highest rate was in the 65 or older (group), and the second highest rate was in zero to 4-year-olds," Brammer said. She added that officials aren't sure why middle-age adults are hit hard this year and whether that outcome will hold as final data come in.
This year, the hospitalization rate among those 65 and older was about 155 per 100,000 people; about 33 per 100,000 adults 50 to 64; and about 21 per 100,000 children up to age 4.
Deaths due to flu
A total of 34 children have died of flu-related causes this season, and an additional 1,565 death certificates list flu as the cause of death. These mortality rates are not unusual compared with recent seasons, according to Brammer.
The interim report bases estimates on data from collaborating laboratories across the nation and its territories.
"It's such a common illness, and there's so many cases, it would be difficult to count," Brammer said. "But probably less than half of the people who get flu actually go to a health care provider, and a lot that do don't get tested."
The number of deaths, which is based on death certificate reports, is also an estimate. "It's not 100% complete data yet," she said, adding that a lot of deaths caused by influenza may not even list it on the certificate. The death numbers, then, are "a huge underestimation," she said.
Washington state, as of Friday, had 221 lab-confirmed deaths from flu this season, according to David G. Johnson, a spokesman for the state's Department of Health. Last year at this point, only 68 people had died, while in the 2014-15 season -- widely considered a difficult one -- 157 people had died by this time.