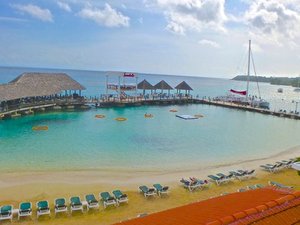 (CNN) — A new wave of design-focused properties recognizes that just because you have tots in tow doesn't mean you want cheesy interiors, chicken fingers and character breakfasts.
Carlisle Bay (Antigua)
No need to worry about getting side-eye or exasperated sighs from childless vacationers at this small-but-mighty resort situated on its own beach and bay in Antigua.
The hotel is set up in two zones -- one for couples and another for families. Everyone gets the same access to the calm, white-sand private beach, free water sport rentals and the spa favored by beauty mogul Gwyneth Paltrow.
The kids' club is free for ages 2 and up ($15 an hour for smaller tykes), and offers adventurous excursions for the older set.
The entire place, including its 82 rooms (all of which face the water), is decorated in crisp whites and cool blues and benefits from Antigua's famously hospitable culture.
From $575; carlisle-bay.com
Fellah Hotel (Marrakech, Morocco)
This 21-acre desert village shows off Morocco's rich culture, at a slightly slower pace than its Marrakech setting.
Everything about this retreat, set against the Atlas Mountains and hosting a UNESCO-approved library, works to inspire young minds.
Aside from leisure pursuits like collaging and campfire storytelling, there's also real-world training like farm work (gathering eggs, grooming animals, milking cows) and boxing (don't worry, it's friendly) for the little ones.
Parents can partake, but they'll probably be more comfortable taking in the garden views from the pool or sweating stress away in the hammam.
From $145; fellah-hotel.com
Grande Lakes (Orlando, Florida)
There's another way to do Disney.
This mega-resort made up of two luxury giants (Ritz and JW Marriott), offers a totally different (read: more restorative) Orlando experience.
The rooms and interior spaces are big and posh, but the familial highlight is outside. This spring, Grand Lakes debuts an eco-adventure sports center ideal for wearing out energetic travelers, with cycling, fly-fishing, kayaking and sunrise safaris through the Everglades.
Mom and dad will appreciate tours and tastings at the on-site brewery, and the whole gang can get their hands dirty working in the 18,000-square-foot garden that supplies farm-fresh fare to two new restaurants (or a picnic for four).
From $199; grandelakes.com
Angama Mara (Maasai Mara, Kenya)
Is there anything more thrilling for a kid than venturing to the African countryside to see lions, giraffes, zebras and elephants in the wild? Kenya's two-year-old Angama Mara luxury lodge makes those animal-filled dreams a reality.
Opened by a South African husband-wife duo, the camp consists of 30 modern, glass-fronted tents that seem to float over the Maasai Mara plains. Several of the tents have interconnected layouts for families wanting extra space.
Although there's no set children's program, Angama shapes itineraries around guest needs (including babysitting) and welcomes ages six and up. It's not uncommon for a staffer to take young explorers on a nature hike or to a beading class with Maasai women, while the grown-ups cruise over the Great Rift Valley in a hot air balloon.
From $825; angama.com
Chablé Resort & Spa (Chocholá, Mexico)