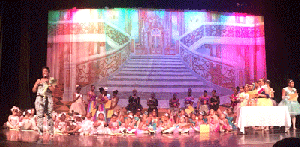 In Fall 1991, Rhonda L. May was hired by the Community Outreach Foundation to conduct a dance workshop for teenagers. The dance program was held at Maryland Hall for the Creative Arts for a two-hour class every Saturday for eight weeks. One of Ms. Rhonda's missions has always been to share the arts with her students. In light of this mission, even in the eight weeks' dance program she managed to take the students on a trip to The Kennedy Center to see The Dance Theatre of Harlem performance. The parents attended a demonstration performance at the conclusion of the dance program and parents were so pleased they wanted to continue the dance program.
After realizing there was an interest, a meeting was held with the then "teens only" members and Ms. Rhonda let the teenagers vote on a name for the dance program, and "EXPRESSIONS" Dance Company ("E" DC) was established. Ms. Rhonda rented one dance room from Maryland Hall and classes were held on Saturdays. Initially, classes were for teenagers only and Ms. Rhonda was the sole instructor, as well as the administrator. In June 1992, "E" DC started with 13 girls.
Shortly thereafter, "E" DC started to grow and classes were offered to children ages 6 through teens. The first show, "A Very Special Christmas" was performed in December 1993. Following that show, the dance company moved to Mt. Zion U.M. Church, where classes were offered to children as young as four years of age. Mt. Zion was "E" DC's dance home until June 1997. "E" DC was getting bigger and as a result, moved back to Maryland Hall and began offering tap dance as well. This time, Ms. Rhonda rented three dance studios from Maryland Hall. The enrollment as well as the teaching staff grew.
In September of 1998, "E" DC moved to its current home, 108 Old Solomons Island Road, Suite L7, Annapolis, Maryland. The enrollment was bigger than ever and offered classes for 2 ½ year- olds through Adults. There were approximately 140 students that year.
In 1998, "E" DC also became the home for approximately 25 Boys & Girls Club children who were a part of an after-school dance program. This partnership lasted for several years and was the inspiration for "E" DC's EMPOWERMENT, Through the Arts Scholarship Program.
"E" DC has remained committed to exposing its young people and the young at heart to the art of dance, etiquette and the importance of community service by sponsoring trips, performing throughout the community and collecting food, clothes and toys for the less fortunate. "E" DC has sponsored trips to The Kennedy Center in Washington, DC, Radio City Music Hall, Madison Square Garden and many Broadway theaters for Broadway productions in New York City.
"EXPRESSIONS" Dance Company participated in a cultural dance exchange in Nassau, Bahamas during the summer of 2002. "E" DC has also offered numerous etiquette classes at the Blair Mansion Inn in Silver Spring, Maryland, Princess Tea Parties, "Kids Night Out" sleepovers, Harvest parties and even some fun trips to amusement parks.