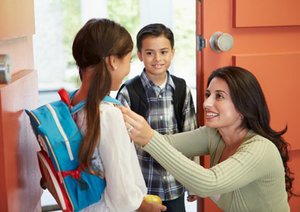 NEW YORK (CNNMoney) — President Trump said something last week that should have perked the ears of every American parent (and wannabe parent).
In a speech to Congress and the 47 million Americans who watched on TV or online, Trump endorsed paid time off for mothers AND fathers. It was a bold move for a Republican president.
"My administration wants to work with members in both parties to make childcare accessible and affordable, to help ensure new parents have paid family leave, to invest in women's health, and to promote clean air and clear water," he said.
Notice that Trump didn't say paid leave for moms, he said paid FAMILY leave. That's a much bigger promise than what he said on the campaign trail.
"It's hugely significant to say family leave," says Brad Harrington, executive director of the Boston College Center for Work & Family. "For a Republican, it's unusual."
When he was running for office, Trump rolled out a plan to give six weeks of paid maternity leave, but only for working moms who give birth. Family leave typically means paid leave for moms and dads and for people caring for a really ill relative (e.g. a 75-year-old parent who has a stroke).
The White House refused to clarify if Trump's policy has truly changed, but the wording shift meant a lot to moms, dads and activists pushing for change.
Wide support in U.S. for paid family leave
"It's critical that it's shifting to paid family leave and away from maternity leave," says Victoria Budson, executive director of Harvard's Women and Public Policy Program. Budson points to a lot of research showing that dads need time to bond with babies as well, and that America's aging Baby Boomers are likely to put strain on their younger relatives who have to care for them.
Many credit his daughter, Ivanka Trump, for lobbying her father -- and Republicans in Congress -- to end America's status as the only industrialized nation that doesn't offer any paid leave for new mothers.
But it's not just Ivanka that's pushing for this. The vast majority of Americans (72% according to an AP poll last year) support it, and marquee U.S. companies like Facebook and American Express keep expanding their family leave programs by offering four months or more of paid leave. They believe it's the best way to attract and keep top talent.
"This is one of the policy issues where there is tremendous support from the American public," says Budson.
Not a perfect plan
Trump hasn't unveiled any more details about his plans for child care or paid family leave since he took office. Ivanka has been working with GOP Congresswomen Cathy McMorris Rodgers of Washington and Marsha Blackburn of Tennessee to craft legislation. Both offices declined CNNMoney's request for comment.
While some praise the president and Ivanka Trump for pushing forward on this issue that has long been controversial in Republican circles (President George H.W. Bush vetoed a bill for unpaid family leave in the late 1980s because he didn't want to impose more federal regulations on companies), others say the current Trump plan needs a lot of improvement.