Originally published 3/9/2017 at 05:30p.m., updated 3/9/2017 at 09:43a.m.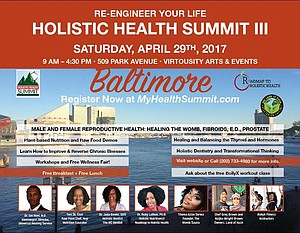 The 3rd Re-Engineer Your Life Holistic Health Summit will take place in Baltimore, MD on 29 April 2017. The event is a transformational conference designed to address key aspects of total
wellness. Doctors, nutritionists, and other health practitioners will conduct workshops on reproductive health including healing fibroids, erectile dysfunction and prostate cancer, benefits of
holistic dentistry, plant-based nutrition and strategies for improving or reversing chronic diseases such as diabetes and cancer, and more.
Dr. Lathon, who is the Summit founder and director of Roadmap to Holistic Health, states "The goal of the Re-Engineer Your Life Holistic Health Summit is to provide people with a much needed road map to taking charge of their health. We are removing the guess work and teaching people how to nourish and heal their bodies naturally."
Baltimore Re-Engineer Your Life – Holistic Health Summit 2107
Saturday 29 April 2017
At the all new Virtuosity Arts & Events – 509 Park Avenue Baltimore, MD 21201
Event speakers include Ruby Lathon, PhD, Certified Holistic Nutritionist; Chef Gregory Brown & Naijha Wright-Brown, Owners, The Land of Kush Café; Ian Noel, ND, Board Certified Naturopathic
Doctor, Kinesiologist; Phyllis Hubbard, ND, Board Certified Naturopathic Doctor; Jada Daniel, DDS, Holistic Dentist, The DC Dentist; Toni St. Clair, Transformational Health Coach, Raw Food Chef, Wellness Educator; Thema Serwa, Founder, The Womb Sauna and Yuma Bellomee, holistic herbalist. Event sponsors: Roadmap to Holistic Health and The Land of Kush For more information or to schedule an interview visit www.MyHealthSummit.com.