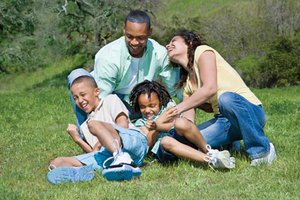 (CNN) — Like most parents, my weekends are consumed with getting my girls, ages 9 and 11, to and from various activities.
This weekend, we had two soccer games, one sleepover party, two play dates, religious school and an outing with my sister-in-law. We also would have had a baseball double header but that was canceled due to the rain.
In between, there were definitely a few fights and complaints, homework assignments that needed to get done, a house to get ready for not one, but two house guests and, of course, meals to prepare and snacks to pack.
It's the same story every weekend and week. My mom jokes that she can't keep up with how crazy our lives are, but I know I'm not alone.
And that is why a recent New York magazine story really resonated with me. Titled "Just like Burnout at Work, It's Possible to Burn Out on Parenting," the story talked about a recent survey of more than 2,000 parents, conducted by researchers in Belgium. They found that just as people can burn out from their professional jobs, mothers and fathers can burn out, too.
The study, published in the journal Frontiers in Psychology, found that close to 13% of the parents surveyed, 12.9% of mothers and 11.6% of fathers, had what the researchers called "high burnout." That meant they felt exhausted, less productive and competent and emotionally withdrawn -- qualities that are similar to professional burnout -- at least once a week.
I'm not sure I needed a study to tell me parental burnout is real, and neither did many of the parents I contacted via social media and email. What I wanted to find out from parents is why parents today may be experiencing burnout more than parents did in previous generations and what we can do about it.
Pressure to be a 'superhero in everything'
By all accounts, Lyss Stern seems like the mother who has it all together. A mom of three, she built a thriving business called Divalysscious Moms, a networking and event company for New York City mothers, creating what she calls "fabuLyss" opportunities for mothers to connect and recharge.
But Stern was so busy taking care of her business, her three kids, who are now 3, 9 and 13, and her husband, and dealing with the death of her father, that she never took time for herself. About a year and a half ago, she said she hit rock bottom and found herself crying on a rock during a retreat in Massachusetts.
"I think I was just overwhelmed by everything," said Stern. "I think at that moment, it was like my 'aha' moment, 'Lyss, you need to get your life back on track. You need to start taking care of yourself,' " she said.
She was burned out, she said, and experienced another "aha" moment when she returned home.
"I turned to my husband, I said I need to make changes. I need to take baby steps because I want to get healthy, healthy physically and healthy mentally, so I could be the best mom," said Stern, who wrote about her journey in the hopes of inspiring other burned out mothers in the just released book "Motherhood is a B#tch! 10 Steps to Regaining Your Sanity, Sexiness, and Inner Diva."