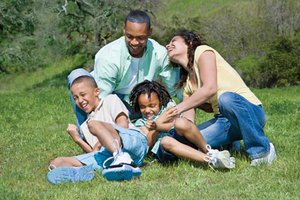 continued — Her mom (and my mom, too!) certainly wouldn't say they were burning out as parents when they raised us, said Stern. "Today, so many moms have these high-powered jobs and they have the kids and we want to be the best at our jobs, and you want to be the best with your kids and then you want to sometimes take time for yourself and you feel guilty, but you can't feel guilty. You're allowed to go to a movie with your husband. You're allowed to go to a movie with your friend without having a breakdown."
The "modern mindset" that you have to essentially be a "superhero in everything you do," is part of the problem, said Vanina Nikolova, a mom of two boys, ages 2 1/2 and 6 in San Jose, California. Nikolova is the senior data analyst for Power to Fly, which connects women to remote opportunities in tech and prides itself on transforming how women are treated at work.
She said parenting burnout is so real that at times she dreams someone would kidnap her for two weeks so that she can finally get some rest from the kids, housework, co-sleeping with a toddler, food fights, and everything else that comes along with raising two young boys.
"You have to excel at work. You have to excel in your relationship. You have to excel in society. You have to be a great parent who feeds the kids with organic food, stimulates their brains while still in uterus, finds the right balance between protecting them and yet exposing them to the real world, shuttles them to sports, arts," and the list goes on and on, said Nikolova. "A supercomputer would go crazy. How about a simple human being!"
Parenting in social media age
Social media certainly hasn't helped, many parents said.
"Gone are the days of backyard birthday parties with a homemade cake, a peanut hunt and a game of 'drop a clothes pin' in the bottle," said Shelby Rideout, founder of Bright Signs Learning, a children's educational company that uses sign language to teach early reading concepts. "Thanks to Pinterest, Facebook and Instagram, parents now get to feel 'less than' for throwing that kind of party. These exaggerations on social media become a measuring stick in which to gauge your success or failure as a parent," said Rideout, a parent of four, ranging in ages from 21 months to 6 years.
Parents exhaust themselves trying to keep up with the false standard of perfection they see around them, she said. "It doesn't seem to matter that these family portraits conjured up on social media do not offer a true depiction of what families are really going through. This is a perfect recipe for burnout."
For working parents, there is the pressure to excel in your career and master the work/life balance, while at the same time giving your children everything you never had to ensure they turn into well-rounded, happy and successful adults, said writer Jennifer Bosse, a mom of two boys ages 4 and 6 in Fort Mill, South Carolina, who has contributed to the Huffington Post, Scary Mommy and Mamalode. For stay-at-home parents like herself, there are pressures, too, she said.