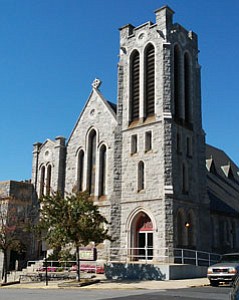 continued — Trinity's daylong celebration also includes dinner, which will be served between the morning and afternoon services. Pastor Johnson talked about another highlight of the church's anniversary celebration.
"We will be recognizing all of our seniors," said Pastor Johnson. "We call them our 'Young Plus.' In my ministry, there are two areas very dear to me, which are often left out – our young people and our seniors. Sometimes, we tend to forget we did not get to where we are by ourselves. Our seniors helped paved the way. We are going to celebrate them."
Pastor Johnson said the services are open to the public, and he is inviting all to attend.
"John 3:16, which resonates in my spirit all the time, tells us, 'For God so loved the world, that he gave his only begotten Son, that whosoever believeth in him should not perish, but have everlasting life,'" said Pastor Johnson. "I make sure, and it is my goal that everyone has the opportunity to choose God as their personal Savior. Jesus ministered to the community and they came and followed him. I have got to direct everyone back to the Word of God. The true history is that we are standing on God's Word. Whosoever is inclusive of everyone. From that persons are birthed into ministry and future ministers and churches are produced."