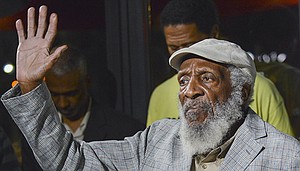 LANDOVER, Md. — Civil rights activist and comedian Dick Gregory packed several lifetimes into his 84 years. He was many things: groundbreaking, pioneering comedian; persistent critic of America's policies and practices of racism, discrimination and oppressor; marathon runner; a guru around issues of nutrition and good health; political candidate for mayor of Chicago and president; author of 20 books.
Gregory, father of 10 and husband to wife Lillian for 58 years, died August 19 after a brief illness.
On Saturday, September 16, 2017, at City of Praise Family Ministries several thousand mourners listened for more than six hours as friends, family and admirers celebrated the man described as a legend. The memorial service brought together a constellation of local, national and international celebrities and luminaries from the Arts, entertainment, politics and sports as well as ordinary people, all whose lives Gregory touched over the course of his 84 years. These included boxing promoter and TV host Rock Newman, actor Joe Morton, Congresswoman Maxine Waters (D-CA), Stevie Wonder, Bill and Camille Cosby, MSNBC's Lawrence O'Donnell, members of the American Indian Movement and The Rev. Dr. William J. Barber II.
Nation of Islam leader Min. Louis Farrakhan – who was introduced by his friend of more than 40 years, the Rev. Willie Wilson of DC's Union Temple Baptist Church said Gregory was "was from the dark womb of space that God produces to create stars of immeasurable quality and beauty" who was always among ordinary men and women working.
"We experience the loss not of a comedian but the loss of one sent from above to be a guide, a teacher, a friend, a teacher, an activist, a giver, a sufferer, one of the most marvelous human beings I have had the privilege of meeting during my 84 years of life on this planet," he said. "I want to thank Mother Lillian and the Gregory family for the great honor and privilege that you have given me to ask me to be the eulogist for a man that is so difficult to describe, But I'm going to try in a few words to say what I think and I believe about man who lie there but is not here."
Crowd reaction was palpable when several children of slain Civil Rights activists and Rain Pryor, daughter of comedian Richard Pryor, came to the stage to pay tribute to Gregory. Renee Evers-Everette, Martin Luther King, III, and llyasah Shabazz, the third daughter of Malcolm X and Dr. Betty Shabazz talked about the many ways Gregory touched their lives.
"Baba was part of my Pryor life of laughter and that special attention he gave you," said Pryor. "He said that truths were soul food and a map to live by. He told me to always choose my words wisely. Today, as we honor our newest Ancestor, we are reminded not to morph, not to imitate, but to speak the highest truth. We have to keep them lifted in our actions as we become the change they sought."
Evers-Everette said she initially refused strenuously when asked by Ayanna Gregory to speak but … "There's no way I could not be here," she said. "My father and Dick Gregory were brothers of the spirit and the hearts … They (her father and other slain Civil Rights activists) spilled the blood of truth for our freedoms. The words, wisdom and spirit they powered out in us was given to the world. The time given may have been small but it was enormous. They made the most impact on our minds and hearts."