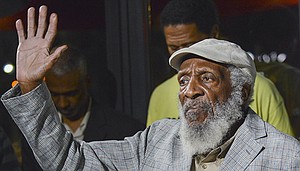 continued — Shabazz said Gregory fought for people trapped on the periphery of economics and justice.
"He challenged the social climate and challenged a superpower that has been systematically and historically unjust to certain populations," she said. "I'm honored to be here today for my parents and Ancestors. The Ancestors are lining up to welcome Baba in anticipation of a progress report on the status of life down here."
"When it came time to say who took Malcolm's life he rose to the occasion. He clarified Martin Luther King Jr's death and raised his voice for those slain by bullies and bigots," Shabazz explained. "And when this new generation reminded the world that Black Lives Matter, he stood up with them and spoke truth to power."
Waters, who has eagerly embraced her role as an outspoken and acerbic critic of President Donald Trump, promised that she would continue to be "this dishonorable person's" worst nightmare.
"I'm so pleased that you organized a real celebration where you're not ending quickly and trying to shut people up. I'm going to take as long as I want," she said to a mixture of laughter and applause. "I have talked to Dick for hours. We would talk— no, he would talk— about things going on in the world. He brought me to this time and place in my life."
"I've decided I don't want to be safe. I'm not looking for people to like me. It's time for us to walk the walk. If you cared about him, loved him, stop being so weak. It's time to stop skinning and grinning. It's time for us to have the courage to do what we need to do, especially at this hour."