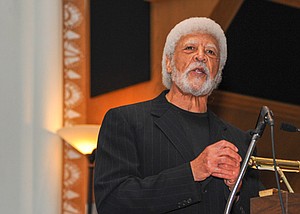 Ron Dellums, the firebrand former Oakland, California mayor and founding member of the Congressional Black Caucus, who vigorously fought on behalf of the poor and disenfranchised, died on Monday, July 30.
Dellums, who helped shaped politics in the Bay Area for decades, reportedly died after a long battle with prostate cancer. He was 82.
Tributes celebrating Dellums political and civil rights activism poured in from colleagues and friends.
"I have known and admired Ron Dellums since I was a child," former U.S. National Security Advisor Susan Rice said in a statement. "He, in part, inspired my interest in public service."
California U.S. Senator Kamala Harris also expressed her condolences.
"I'm deeply saddened by the loss of former congressman and mayor of Oakland, Ron Dellums. His years of service to both the Bay Area and California will continue to serve as a beacon for change and progress," Harris tweeted.
Minnesota's Democratic U.S. Rep. Keith Ellison said Dellums counted as a courageous freedom fighter. He remembered Dellums for his "inspiring example, courage, humor and relentless faith in our ability to make a better world."
Born on November 24, 1935 in Oakland, Calif., Dellums served in the United States Marine Corps from 1954 to 1956 after he was denied the college scholarship he had sought, according to his biography at Blackpast.org.

After service in the Marines, Dellums, with the help of the G.I Bill and an outside job, attended San Francisco State College where he received a Bachelor of Arts degree in 1960.
He went on to earn a master's degree in social welfare from the University of California at Berkeley in 1962.
After teaching at San Francisco State University and at Berkeley, Dellums became a politician. He was elected to the Berkeley City Council, where he quickly became known as the spokesperson for African American community affairs and for his radical political beliefs.

After only three years on the Berkeley City Council, Dellums decided to run for Congress.
With crucial campaign assistance from Coretta Scott King, the widow of slain civil rights leader Dr. Martin Luther King, Jr., as well as from Berkeley's powerful anti-Vietnam War organizations, 35-year-old Dellums was elected to Congress, where he quickly emerged as one of the most radical and outspoken lawmakers in Washington.
Within weeks of his election, Dellums called for congressional investigations into alleged war crimes in Vietnam and co-founded the Congressional Black Caucus.

Two years later he began a long campaign to end the apartheid policies of South Africa and in 1986 introduced the Comprehensive Anti-Apartheid Act, which called for sanctions against the nation's government.
President Ronald Reagan vetoed the bill, however his veto was overridden, marking the first time a presidential veto of a foreign policy measure was overridden by Congress in the 20th Century.
In 2006, he was elected as the mayor of Oakland, succeeding former California Governor Jerry Brown. He left office in 2010.
"We mourn the loss of one of the founders of the Congressional Black Caucus," the CBC said in a statement. "His work for his community and his work for the Caucus will be missed."