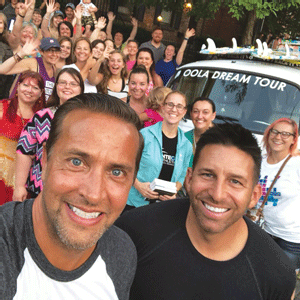 "We wanted to do Oola for Christians because The Bible has a lot to say about the seven key areas of life," he said.
The Oola Movement has taken the country by storm. Amdahl and Braun have one million fans on social media. "We want to change the world," said Braun. "On a personal note, I retired at 42 living these seven principles. Now, I am committed to making a difference in the lives of others. Fifty-five percent of people hate their jobs, and many marriages end in divorce. Statistically, we aren't having fun anymore. People should make money, but not at the expense of their family."
He added, "By removing the stress from a life out of balance, you will be able to reveal the greatness and purpose that is inside all of us. A better you, makes a better family, a better community, and ultimately a better world."
Amdahl says he and Braun are excited about their upcoming visit to Baltimore. "Baltimore is an area we have been to personally, but not with the bus," he said. "We are looking forward to collecting more dreams in Baltimore."
For more information about the Oola Bus Tour and the Oola Movement, visit: www.oolalife.com.