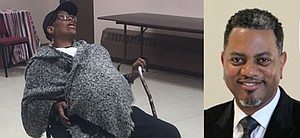 International touring group Serenity to perform in holiday musical on December 15 and December 16
Ursula V. Battle's uplifting holiday musical "A Christmas Miracle" will play on Saturday, December 15, 2018 and Sunday, December 16, 2018 at the One God One Thought Center for Better Living (OGOT), located at 3605 Coronado Road in Windsor Mill, MD, where the Rev. Bernette Jones serves as Senior Pastor.
Presented by Battle Stage Plays, LLC, the production will be presented Dinner Theater-style with a delicious homecooked menu prepared by Charm City Caterers.
The dynamic, gospel-singing trio "Serenity" will headline the production, which was written by playwright and Baltimore Times Staff Writer Ursula V. Battle. The uplifting piece is co-directed by Dr. Tammi Rogers and Minister Tracey Stephenson. Nationally known musician Howard "Buddy" Lakins who has performed with the likes of Vanessa Bell Armstrong, Mary Mary, and Maurette Brown Clark will be on keyboard.
A Christmas Miracle is a modern-traditional story about The Birth of Jesus Christ. The touching holiday production is based on the Biblical accounts of Luke, John and Matthew, and is a moving story about the timeless miracles of Jesus Christ.
The production is sure to take audiences on an emotional rollercoaster of side-splitting laughter, foot-stomping singing and clapping to holiday Christmas classics, while also evoking tears of compassion during the play's dramatic scenes, as a terminally ill grandmother tells her grandchildren all about the true meaning of Christmas.
In addition to Serenity, the production also features longtime Baltimore acting staple Sandra Meekins (Elizabeth); Tonya Williams (Melvina Jackson); Tanya Brown (Earlene Jones); Zacharia Hopkins (Nelson); Xavier Saunders (Tyler); Leonard Stepney, Jr., (Joseph), and Kenya Chase (Mary). Comedian "Miss Maybelle" will make an appearance in the production as an angel.
After Sell-Out performances in 2017 of her hit stage play comedy Ursula V. Battle's "For Better or Worse" at OGOT, the playwright returns to the church for her latest work. Battle's other productions include Ursula V. Battle's Serenity House, My Big Phat Ghetto FABUE- LE$$ Wedding, DisChord in the Choir, and The Teachers' Lounge.
Performances times are Saturday, December 15 (2 p.m. and 7 p.m.) and Sunday, December 16 (3 p.m.). Tickets are $40 ($45 after 12/5/18) and $50 for VIP (reserved seating and gift bag: $55 after 12/5/18). Tickets will be more at the door. Call 443-531-4787 or visit: www.battlestageplays.com for more information.