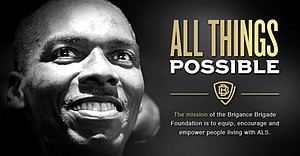 O.J. Brigance has become a staple in Baltimore's football community. Brigance now serves as the Ravens Senior Advisor to Player Engagement. After playing professional football for 12 years, Brigance has battled ALS for more than 11 years.
His fight is an inspiration to all. Brigance recently recorded a special message for the Ravens that was placed on the team's website:
"'Purpose' is the fuel, which launches us towards destiny. When men are able to stand in one accord towards a singular purpose there's nothing that is impossible to achieve. We are on the brink of something extraordinary. Others don't see it nor can they conceive it because it's not for them to understand. Some think things are revealed only to us by God because of a lack of faith from outsiders can discourage our efforts. It's a step-by-step process that was begun last week. Time is never promised, only granted. Today is your moment— so don't miss your moment. Today is your time— take full advantage of it. Now is the time to take our next step. Focus; log in on your assignment. Dominate. I love you."
That was quite a message for the Ravens, a team that has strung together three straight wins. Baltimore's record is 7 - 5 which is good for the final wildcard spot in the postseason. They are also right behind the Pittsburgh Steelers with four games left on the schedule.
Brigance, a former linebacker who played for the city in two professional capacities is an example of perseverance for the current team. His first stint in professional football with the city was as a member of the Baltimore Stallions of the Canadian Football League from 1994 - 1996. He also played for the Ravens in 2000 and played an integral role on the championship-winning team.
Brigance finished second on the team with 25 special teams tackles and led the team with 10 special teams tackles in the post-season. He registered the first tackle in Super Bowl XXXV to set the tone for the city's first championship. He hopes his message can do the same for this year's team as they march towards the playoffs.