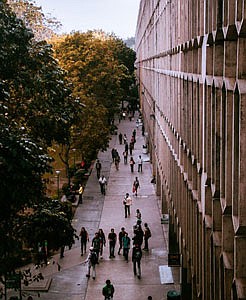 Baltimore County, Md. — Community College of Baltimore County (CCBC) is reaching out to students impacted by Brightwood College's recent closure, inviting them to an Open House event from 10 a.m. to 1 p.m. and 5 p.m. to 8 p.m. on Tuesday, December 18, 2018 at CCBC Catonsville, Arts Lounge, Center for the Arts.
Students are encouraged to bring copies of academic records or official/unofficial transcripts from Brightwood or other colleges they may have attended.
Representatives from a variety of CCBC departments will be on hand to meet with students and help them explore their options. Advisors, financial aid representatives, academic program faculty and staff, transcript evaluators, members of the admissions team and more will be available.
Former Brightwood students can pursue associate degrees and industry certifications in a variety of CCBC career programs that correspond to former Brightwood offerings including:
•Computer Networking Technology (associate degree)
•Computer Support Technician (certificate)
•HVAC (certificate)
•Medical Assistant (certificate)
•Medical Billing Coding Specialist (certificate)
•Pharmacy Technician (certificate)
CCBC also offers numerous other degrees, certificate and workplace certification programs to choose from for those interested in exploring other career options.
The Open House is free and reservations are not required. There is no cost for students to apply or register. Additionally, the fee for Prior Learning
Assessment or credit by exam will be reduced and scholarships will be available to assist with tuition and fees.
For more information call 443-840-4392 or visit: www.ccbcmd.edu. Additionally, visit the Maryland Higher Education Commission website: www.mhec.state.md.us for helpful information specific to Brightwood students.