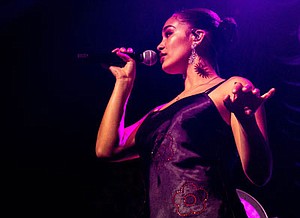 During the first few songs, Jorja seemed to really be warming up and adjusting to everything around her— the audience, the ambiance and maybe even the lighting!
This made her very human— not fabricated or forced, it was all very natural. As the show progressed, she became immensely loose and ready to party and Baltimore loved every bit of this— especially during her bursts of dancing. Her personality shined brightly through her singing, her smile and connection with the music.
Clearly, this was a situation where the audience could tell that Jorja knew every bit of what she was singing. These songs weren't just sounds to her, they were stories and stories that she needed to tell. During the latter half of the show, Jorja walked off the stage letting her phenomenal band take over for a while. The musicians had a chance to shine but the drummer, Femi Koleoso stood out the most for me. He was precise and passionate with every beat on the drum. I couldn't help but yell in amazement during his solo.
Jorja returned to the stage and performed a few songs and then left the stage once again. We all realized she had not performed her hit On My Mind, and we just knew she had to be coming back. I don't want to give away any more spoilers for those who might see her during her "Lost & Found" tour, but the way she constructs On My Mind will blow your mind. All in all this was quite the solid performance, a 9.8 out of 10 in my book!
Jorja, keep being great!
Follow Jorja Smith on Instagram @jorjasmith_