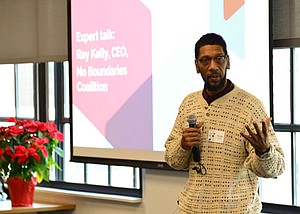 Shantay Guy, the executive director of the Baltimore Community Mediation Center, said that she was grateful for Mayor Pugh's level of thoughtfulness with engaging Facebook to use its extensive resources for the benefit of Baltimore's residents.
"That was really powerful for me," Guy said.
Guy, who worked as a technology project manager at T. Rowe Price, said that she was "really stoked" to be a part of the design jam, because she understands how impactful technology can be for addressing everyday issues and long-standing social problems.
"Community engagement, technology engagement and civic sector engagement will be converging in a way that allows the community to be a part of the process instead of being left out, which happens far too often in black and [Hispanic] communities," Guy said.
Ray Kelly, the chief executive of the No Boundaries Coalition, a resident-led, advocacy group, said that social media has changed the way that community activists reach their constituents. Now effective communication strategies must not only include traditional marketing techniques like direct marketing and public panels, but also digital and social media marketing.
"No one impacted by police misconduct is going to the [Baltimore Police Department's] website to see what policies are under review," Kelly said. "Community groups have to let them know and we have to get that information out there, as effectively as possible."
Kent called the project "a long-term engagement not just in Baltimore but in other cities in the U.S. and across the world."
Kelly said that the most important thing that the black community should know about Baltimore's partnership with Facebook is that it's important to get involved and stay engaged with city officials and corporations in order to have a positive change in their own neighborhoods.
"The fight is still going on," Kelly said. "We're in the midst of change."
Supporting that change by reducing violence in black and poor communities is not only Facebook's responsibility; every company in the world and every citizen in the world has a role to play in elevating the most vulnerable members of our society, said Guy.
Guy continued: "We all have a shared and individual responsibility for leveling the playing field and creating a world that is equitable."
Freddie Allen is an independent journalist and photographer and is the former Editor-in-Chief of the NNPA Newswire and BlackPressUSA.com. Follow Freddie on Twitter @freddieallenjr.