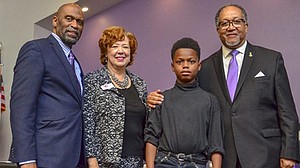 Glass' sobering dialogue shifted the discussion of the meeting.
"That was a brave thing for this young man to stand up and be heard," said NNPA President Dr. Benjamin F. Chavis, Jr.
Another young person asked what could be done to encourage more students to participate in discussions about education.
"The question came up about how to get young people more involved in events like this and the right answer is to ask that young person who asked that question is: what is it that he thinks should be done," said Gregory Huskisson, the vice president of content and audience for the Wave newspaper in Los Angeles. "We need to do a better job of getting young people involved. The second thing is what kind of structural thing can you build into the program that would be more enticing for young people."
Huskisson said it was a privilege to take part in the town hall from Los Angeles.
"The issue is critical to organizations like the Wave and the NNPA and we need to be focused on getting together and collaborating on getting solutions, because we are solutions-based organizations and we're involved in a lot of community-based programs and projects," Huskisson said. "Anytime the NNPA creates programming that's focused on solutions in our community, especially ESSA, we are all about it and I applaud Dr. Chavis and the NNPA. I look forward to the next ESSA town hall."
Stacy Brown is an NNPA Newswire Contributor and co-author of "Michael Jackson: The Man Behind the Mask: An Insider's Story of the King of Pop." Follow Stacy on Twitter @stacybrownmedia.