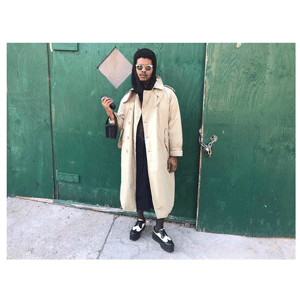 Baltimore native, Chester Algernal has made some radical changes in his life.
Particularly, since he moved to New York in the winter of 2012.
The changes led to him to meeting many of his career and life goals, including as talent producer on the Viceland television show, "My House."
"I understood, if I wasn't going to go to college right after high school, I had to be grinding every day to get the life I wanted for myself," Algernal said.
He started as an intern for Canadian designer Heather Lawton, and within one week of his internship, he was hired full-time. But there was more in store for Algernal. He is now a costume designer and producer who has worked on films like 2016's "Walk for Me," and the forthcoming, "Hair Wolf," and "The Manor."
Algernal also worked as an assistant to stylist Jules Wood, but quickly began to style his own fashion editorials. Wood works as a fashion stylist for magazines, including: Nylon, Paper, Zink, Tatler HK and Marie Claire, Elle US, Zoo Magazine, Galore Magazine, Client Magazine, Carbon Copy and Beauty Rebel.
"I was published a couple of times but I still felt like I wasn't doing what I loved," Algernal said. "I fell in love with a cameraman who owned a red camera and I started to create and direct my own video art."
That led to the opportunity for Algernal to create a string of videos for business es in Maryland and in New York. He went on to shoot the short film, "Walk for Me," which starred Yolonda Ross from the Showtime series, "The Chi."
Subsequently, Algernal has gone on to perform in more than 110 film festivals while racking up several awards. His husband, Elegance Bratton, then began developing "My House," for Viceland.
"I fell in love with the idea and told Elegance that I had to work on it," Algernal said.
"Once the show was sold, I was offered the job of talent producer where I cast the show and the music, and I help a lot in the producers' room, which was a privilege," he said about the show, which airs on Wednesdays at 10:30 p.m.
Currently, Algernal serves as producer for "Docs Pier Kids by Elegance Bratton," and "No Fats, No Femmes," by J.T. Lewis.
He recalled that radical change that led to all his success.
"I was living in the Druid Hill park neighborhood in Baltimore for two years prior to 2012. I was a District Visual Merchandiser for American Apparel, merchandising all their stores in the area," Algernal said. "I made the decision to leave home and living with my mom, to being homeless in New York City to make my dreams come true. I knew if I wanted a fab life for myself I would have to be very uncomfortable and I was going to have to shuffle up my deck of cards."
After leaving American Apparel, Algernal says he took his unemployment check and moved. He met an individual at a Starbucks who agreed to rent his living room for $300 a month.
"I hit the grind," he said, noting that his journey to success included being evicted and spending nights at McDonald's restaurants in Times Square falling asleep with coffee in front of him. "I consider being stable as my biggest accomplishment to date."
"When I lived in Baltimore I would leave the house at midnight and walk around the city and take in its true energy. I would walk around Neighborhoods [that] people would consider unsafe and safe learning the streets and the people," he said. "Baltimore helped me to make the decision [to] get on the bus with eight trash bags full of clothes and books, and take a leap of faith onto a path I couldn't see but an inner voice that was loud and determined to win against all odds."