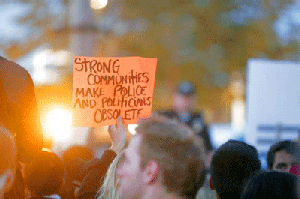 Of course, I am upset by the actions of the unnamed 911-caller. But I am also upset that the police officers didn't address the tour guide to determine if my boys belonged on the tour. Going forward, the CSU administration
should draw up guidelines for university employees on how to deal with teenagers or other people on campus who are on the receiving end of 911 calls that could be based on bias.
They should also consider the trauma that can ensue when young people of color are pulled off a campus tour and detained like criminals. After determining that my sons were wrongfully accused, unnecessarily detained, and unfamiliar with the campus, the least that the officers could have done as public servants was help them catch up to their group.
If our story had not received global attention, the 911-caller would have walked away proudly, feeling that she had done the right thing and saved their group from young men who didn't belong. And CSU may have never started thinking of ways to protect people of color from 911 busybodies.
We are determined to stop dangerous actions like these by "nervous white people." What happened at CSU could happen anywhere. What happened to my sons has happened to thousands of native people and other people of color for centuries. We feel it is our duty to take a stand and make the country aware that we've had enough.
The concept of "see something, say something" is often abused in America to target people who are simply existing in their skin. This bias must be checked. And institutions ranging from Starbucks to CSU can help. I particularly hope that universities— if they truly want to support inclusion— will do the work to keep other young people from experiencing what my boys did when they were 500 miles from home.