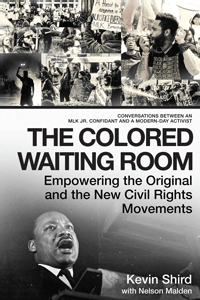 Like many Baltimore born residents, Kevin Shird has a story to tell.
Raised on the west side of the city in poverty, Shird dealt drugs at the age of 16 and later spent nearly a dozen years in prison. Ironically, prison is where Shird says he first developed his writing skills.
"There, I started helping other inmates who either didn't know how to read or didn't know how to write, and later I became an instructor in a prison GED program helping guys get their GED before they were released," he said.
Today, Shird is a three-time published author, writer and social activist and he has many talking about his latest book, "The Colored Waiting Room: Empowering the Original and the New Civil Rights Movements; Conversations Between an MLK Jr. Confidant and a Modern-Day Activist."
As the editors at Apollo Publishers note, the 240-page hardcover work features extraordinary conversations between a confidant of Martin Luther King Jr. and Shird who is known as a modern-day, activist.
It leads to the game-changing realizations that a second-wave civil rights movement is unfolding and the lessons of the past to effect lasting change must be now be embraced.
"It's a book that talks about civil rights then and social justice now, how do we connect the dots between yesterday and today," Shird said. "Back then there was the KKK; today there are the white
nationalists. Back then it was the murder of Emmett Till, Megger Evers and Jimmy Lee Jackson. Today, we have the unjust killing of Tamir Rice, Trayvon Martin and Freddie Gray.

"Back then, there was the bombing of the 16th St. Baptist Church in Birmingham, Alabama and today— the Charleston church massacre in South Carolina. The similarities are eerie."
The book also tells the story of Nelson Malden, who once served as Dr. King's personal barber.
"I was inspired to write the book after meeting [Malden] when he was visiting Baltimore in 2016," Shird said. "He gave me his telephone number and I called him a few days later and we began talking about the time he spent with Dr. King in Montgomery. He also began to talk about the Jim Crow laws and how they negatively affected African Americans during those years."
A short time later, Shird visited Montgomery where he and Malden toured historical sites like King's former home, the corner where Rosa Parks was arrested on the bus and other significant places.
"While I was there I became even more inspired to travel down the long road to write this book, which took about 10 months. I realized at that time that this would be a very important book at a very important time in America," Shird said.
Malden counted as the first black man to ever run for political office in the city of Montgomery, Alabama. Before 1966, no black man had ever run for political office. Shird says that was a very important time in Montgomery, the epicenter of the American civil rights movement.
"Nelson put his life on the line during a very important time in American history," Shird said.