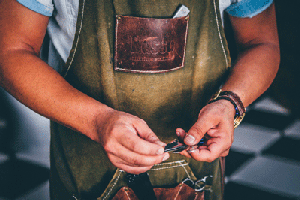 Alford's Black Chamber of Commerce is by far, the most preeminent black chamber in the U.S. If you want to get the pulse of the black business community, one need only reach out to them. They have some of the most insightful data on the state of the black business community; they give the most insightful analysis on major policy issues and their impact on the black business community.
Here is a message to the Republican Party: Blacks are not opposed to the Trump administration's agenda; simply put, no one is speaking to them in a language they understand and in a manner that is relevant to them.
Black blue-collar workers and black entrepreneurs both have been and are being devastated by workers who are in the country illegally. Why hire a blue-collar American worker at $25 per hour when you can hire an illegal worker for a lot less?
Entrepreneurs are being undercut on government contracts, because big companies are hiring engineers from India through the insidious H-1B program, while small business owners have to pay American engineers a lot more in order to compete.
Liberals have tried to equate Trump's America First promise with America alone. America is the only country on earth that is putting others before its own national interest.
If this White House were to speak directly to black blue-collar workers and black entrepreneurs simultaneously, I can guarantee you that this effort would be quantifiable at the ballot box in this year's congressional elections, as well as the presidential election in 2020.
Raynard Jackson is founder and chairman of Black Americans for a Better Future (BAFBF), a federally registered 527 Super PAC established to get more Blacks involved in the Republican Party. BAFBF focuses on the Black entrepreneur. For more information about BAFBF, visit www.bafbf.org. You can follow him on Twitter @Raynard1223.