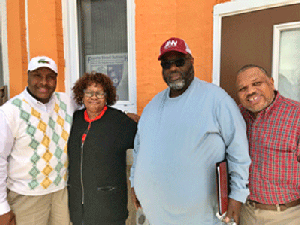 continued — Sterling Brunson is Treasurer of FSO.
"We work with the community so they can embrace themselves," said Brunson. "There is a generational wealth gap in this area. We want to teach residents how to save money and reinvest in their community. We want to give people the opportunity to live and thrive in this community. We also give away food and produce. We don't want to give handouts, but give people a leg up. Teaching people to be self-sufficient is the end goal."
According to Timothy Bridges, Vice President of FSO, funding for the building was provided by a HUD grant, political allies, and other support.
"We developed these relationships and partnerships and was able to do this work with God's help and somebody else's resources", said Bridges. "We are very adamant about having a place that youth and seniors can come and receive experiences that will be life-changing. Many of our citizens have a felony and can't get a job. But locking people up won't help us out of our situation."
Bridges noted some of FSO's community builders.
"We had a lot of people invest in our community such as Joy Bramble and Neal Muldrow," said Bridges, referencing Baltimore Times Publisher Joy Bramble and businessman and Baltimore Times consultant Ackneil M. Muldrow II. "It shows the possibility of what can happen. We are in the mode that the sky is limit. There is nothing we can't accomplish if we don't put God first and set our minds on what we can do."
For more information about FSO call (443) 708-5283.