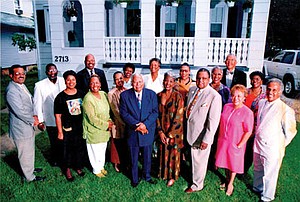 It was the 1960s, and a Virginia State College student by the name of Harold Young was being recruited by a dapper, business-savvy, young professional who worked for Commercial Credit Company by the name of Ackneil M. Muldrow, II. At the time, Young was 22, and Muldrow, who was manager of the company's Equal Opportunity Programs, was 28. Young vividly recalled how impressed he was with his future longtime friend he refers to as "Neal."

"Neal was an up and coming African American professional who attracted me to the company because of his personal approach and interests in things I could really relate to at the time," said Young. "I was just blown away by his presentation, and as it turned out, it was an internship that rolled into permanent employment."
Young added, "Neal recruited many young men and women from all across the country - mostly from the South. He helped to groom so many of us in that regard. Many of those he recruited did not have financial resources. He would put mattresses on his car, and household goods in his car, and literally move the person into their place of residence. He had a big heart and would go to any length to make one successful."
Muldrow, who was 80, died of heart failure Oct. 25, 2018 at Sinai Hospital. A Memorial Service will be held on Friday, Nov. 9, 2018 at the March Life Tribute Center located at 5616 Old Court Rd, in Windsor Mill, MD. The Family Hour will begin at 9 a.m., with a Memorial Service to follow at 11 a.m.
Young, who had known Muldrow for 52 years, described his longtime friend as "a tireless advocate for uplifting and empowering African Americans." This sentiment resonated throughout Baltimore's business and political communities.

"Mr. Muldrow and I were longtime friends and business associates," said Stanley W. Tucker, president and CEO of Meridian Management Group, a company which manages funds that provide financing to minority and women-owned businesses in Maryland and around the country. "He and I worked closely together for a number of years sharing our passion for making capital accessible for minority businesses. We both realized that capitalism without capital does not work in America."
Tucker added, "It was a tremendous pleasure to work with Neal. He was passionate about his commitment to growth and development for black businesses, which continues to be a major impediment in this state and around the country. We will surely miss Neal, his creativity, commitment, and love for growth and development. We will continue to see if there are any more Ackneil Muldrows out there. But he really can't be replaced."
At the time of his passing, Muldrow was employed with The Baltimore Times.

"Mr. Muldrow was more than incredible," said Stacey Brown, a staff writer for the publication. "A real throwback who, in my short time knowing him, still reminded me how business should always be conducted: head held high, be firm, be honest and always maintain your dignity. He had great contacts and was a great resource for a number of articles I have written for The Baltimore Times. I only wish I knew him longer simply to tap into his great knowledge and because he was a good man."