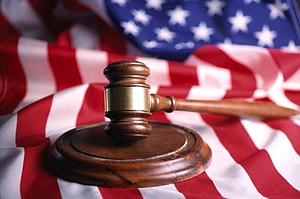 In fact, Koch Industries has been funding criminal justice reform efforts for more than a decade and was one of the first major corporations in the U.S. to "ban the box" by removing questions about criminal history on its employment applications. Other corporate leaders should also "ban the box."
Earlier this year at the NNPA's Mid-Winter Conference, we were pleased to welcome Brother Lamont Carey, a former prison inmate, noted author and founder of Contact Visits, a nonprofit 501(c) 3 organization that he established to assist people preparing to reenter society from prison. It was reassuring to see how Lamont was able to break free of the stigma of incarceration and make a positive and productive contribution to help others transform their lives, families and communities.
Lastly, on the related issue of bail reform: There are nearly a half million people, most of whom are people of color, who are sitting in jail today only because they cannot afford to post a monetary bail. Google and Koch have also teamed up to raise awareness about the necessity for bail reform in America. They believe that individuals accused of a crime should not be required to provide bail unless deemed a threat to public safety or a flight risk, because freedom should not hinge on a person's financial worth.
The time is now for action, not more partisan debate. No more postponements. No more excuses. The U.S. Congress should pass the First Step Act. We want equal justice. Criminal justice reform for black America is long overdue.
Dr. Benjamin F. Chavis, Jr. is President and CEO of the National Newspaper Publishers Association (NNPA). He can be reached at dr.bchavis@nnpa.org.