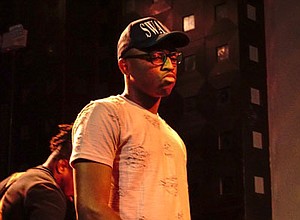 Wright's growth as a musician includes his time on scholarship at the Peabody Institute of Johns Hopkins, where he was honored with an "Outstanding Performance" award, and The Lyric Opera House of Baltimore, where he wrote an opera titled "Industrial Love." His journalism experience also includes writing for Stereo Stickman, an online music magazine.
A creative force in his own "Wright", he also spent an extensive stint at American University under the auspices of the Washington National Opera. He says the Washington National Opera also afforded the opportunity to perform at the Kennedy Center.
"I participated in really prestigious programs," said Wright who also owns a music label. "When I reached college, I started to gain a real serious interest in the media outlet complex. I liked reading about music and entertainment. However, I was more interested in the
analytical side as opposed to the gossipy side."
According to Wright's bio, "through his various experiences in music, he has developed an eclectic sound that is undeniably of his unique creation." However, his bio also notes "that as pleasing as the sound, the listener is also dually challenged to delve deeply into the music's messages, ideas, and claims".
Wright believes he is on the 'right track' to bring this ideology to youthful readers of The Baltimore Times.
"Out of performing live and seeing people wear my clothes, writing track reviews is most fun for me," said Wright. "I enjoy the intellectual challenge of listening to a song, breaking it down and analyzing it."
He added, "I am an artist myself, and I am always looking for originality, drive and high-quality music. The whole goal is to propel people."
To contact Wright for story consideration or more information, email: iwrightmusic1@gmail.com.