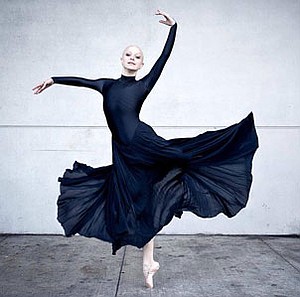 This article is Part II of a two-part series about Metastatic Breast Cancer (MBC) that will be published in observance of Breast Cancer Awareness Month. An annual international health campaign, Breast Cancer Awareness Month is observed every October to increase awareness of the disease, and to raise funds for research into its cause, prevention, diagnosis, treatment and cure.
Maggie Kurdirka, also known as "Bald Ballerina," was born to dance. She began dancing at a young age, and would eventually grow up and join the Joffrey Ballet Concert Group, a part of the prestigious Joffrey Ballet Company in New York City. However, after trying to dance time after time through excruciating pain, Kurdirka knew it was time for a visit to the doctor.
"I found a lump in February of 2014," recalled Kurdirka. "But I just ignored it because I didn't think I had breast cancer. I was having problems breathing, and was having terrible bone pain. But I ignored the pain so I could continue dancing. Finally, I had it checked out.
"I would learn that I had breast cancer. It had spread to the spine and it was eating at my bones. I was 23-years-old at the time, and had no idea someone my age could get breast cancer."
Kurdirka was diagnosed with Metastatic Breast Cancer (MBC). According to the National Cancer Institute, which is part of the National Institutes of Health (NIH), cancer can spread regionally to nearby lymph nodes, tissues or organs. The NIH also pointed out that cancer can spread to distant parts of the body.
When this happens, it is called metastatic cancer. For many types of cancer, it is also called Stage IV (four) cancer.
"My diagnosis turned my whole world upside down," recalled Kudirka. "I could no longer dance with the company. After my diagnosis, the first year was definitely the hardest to get over because I had to get used to my new life. It was a difficult journey."
Now 27, Kudirka primarily focuses on advocacy efforts for the MBC community. She is an Ambassador for the global healthcare company Novartis. In this role, Kurdirka and the other Ambassadors are using their social media channels and activism in the breast cancer community to encourage posts for #KissThis4MBC. For each public post using #KissThis4MBC, Novartis will donate $15 to MBC research.
"I found out about the Kiss campaign last year," she said. "After I got involved, people responded back, and I challenged others to do the same. I felt it was a great campaign to support breast cancer research. I jumped at the chance to be an Ambassador. Even more people are using the hashtag now. It is great to see people embracing the campaign."
Kudirka is a native of Ellicott City, Maryland. For the past two years, she has modeled in NY Fashion Week runway shows for AnaOno Intimates #Cancerland, where she walked the entire runway en pointe.
"I have participated in some amazing events like NY Fashion Week," she said. "Cancer has taken a lot away, but it has also given me a lot of opportunities."