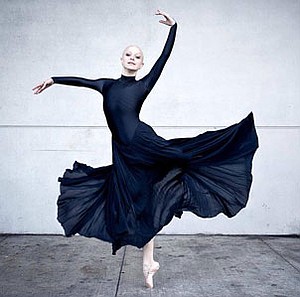 Kurdirka said she still dances when she can.
"I go to the hospital every three weeks for treatments, which include bone strengthening shots," she said. "Sometimes I am doing great. And some other times, I hear of a friend passing away and I get depressed. I am just trying to keep my energy up, and to keep going. My schedule is busy, so I can't perform regularly. However, I jump at the chance when I am available."
According to Susan G. Komen, a non-profit organization that has invested more than $2.9 billion in groundbreaking research in the fight against breast cancer, MBC causes nearly all of the more than 41,000 breast cancer deaths each year in the United States.
Kurdirka says she will continue to 'dance' towards greater breast cancer awareness.
"There was no family history or genetics of breast cancer in my family," she said. "There were other types of cancer, but no breast cancer. I wanted to educate my friends and others that anyone can get breast cancer. Dancers think they can't get cancer and are invisible. I want people to know that anyone can get cancer at any age."
For more information about the Kiss This 4 MBC campaign visit http://www.kissthis4mbc.com