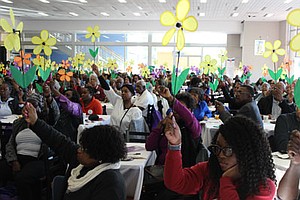 "Alzheimer's Disease is not a normal part of aging," said Daniels. "That is a common misconception. Right now, there are 110,000 people in Maryland living with Alzheimer's. From a caregiver's point of view, there are 16.1 million people performing unpaid care. If they attend this forum, they will learn about the many resources that are available to them."
She added, "This is a free community event that is open to the public. We are anticipating 400 or more people will attend."
The Greater Maryland Chapter Alzheimer's Association offers education classes, support groups, onsite lunch and learns, webinars, conferences and a 24/7 Helpline (1-800-272-3900) in over 200 languages.
"There is hope with research and clinical studies," said Daniels. "We provide education classes, webinars, and many other services. There is no reason not to call us. We always answer the phone with a live human-being. People can vent, find a support group, or register for an event or class. It does not matter. We are there to support them."
The Pythias A. and Virginia I. Jones African American Community Forum on Memory Loss is free, but registration is required. To register, or for more information call (800) 272-3900 or visit www.alz.org/maryland.