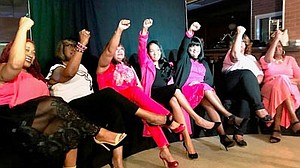 Hello everyone, how are you doing? Well, I hope! I want to tell you about the fun I had traveling the city last week going to several events. A couple of my favorites were the event at Arch Social Club, which was a great success. The music was great. I was pleasantly surprised with the entertainment. They were really good. I enjoyed them. Subria, the young songstress I told you about last week with Tito on keyboard and the guitar player and drummer; I didn't get their names, but they truly were very entertaining. This event was the first of many to come to Arch Social Club on Pennsylvania & North Avenues. Keep reading my column and I will let you know when their next musical series will be scheduled.
I also went to Tiffany East located on East Lombard Street to the WMEL Radio Honors sponsored by DJ Mel, and honey child, it was awesome! Two thumbs up Mel.
Now, we are going to talk about KSAL Dream Team in conjunction with God's Little Angels Academy who will host a Walk-A-Thon for Breast Cancer on Sunday, October 28, 2018 at the GLA Academy located at 6247 Kenwood Avenue in Rosedale, Maryland. Kimberly Salley is the CEO and founder of God's Little Angles (GLA) Learning Center that she founded in 1995. She provides care for children from infancy to 18 years old. Her curriculum includes academics, arts and students' spiritual needs. Her reputation in the community as a businesswoman preceded her as she now has 153 children actively enrolled, and the beats goes on.
St. James' Academy presents a Big Band Motown Cabaret on Saturday, October 20, 2018 at St. John's Episcopal Church, 9120 Frederick Road, Ellicott City, Maryland. There will be plenty of dancing, food and a silent auction. This will be a fantastic event featuring Dr. Phil Butts Orchestra. This year, in addition to an evening of high-energy music and dancing, it is a fun thing to do. All proceeds will go to benefit the children of West Baltimore through the works of St. James Academy. For more information, call Cynthia Easley at 410-323-7295.
Lexington Market announced Health and Wellness Day at The Market in partnership with University of Maryland Medical Center and Johns Hopkins University & Medicine, a once-a-month community health and wellness fair located in the Arcade of the Market. On the third Wednesday of every month from 10 a.m. to 2 p.m. Lexington Market welcomes guests from the medical community as well as other organizations that have your health and wellness in mind. So check them out.
Well, my dear friends, I got to go now. But remember if you need me, call me at 410-833-9474 or email me at rosapryor@aol.com. UNTIL THE NEXT TIME, I'M MUSICALLY YOURS.
Photo Gallery
Rambling Rose 10/19
St. James' Academy Music Benefit, God's Little Angels Academy fight breast cancer