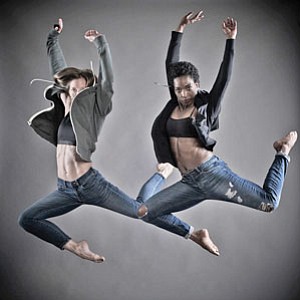 Workplace harassment, immigration, racial profiling, the wealth gap and gay marriage are among the hot-button topics, which often serve as the subject matter for newspaper stories, radio talk show programs, television newscasts, Podcasts and other forms of media communication. However, these controversial issues will soon be presented through another medium— dance.

On Saturday, November 3, 2018, Baltimore's Full Circle Dance Company presents "Same/Difference: Inside Inequality" at the Chesapeake Arts Center in Brooklyn Park, MD. The new show centers on questions of sameness and difference, equality and inequality. Now in its 18th year, Full Circle Dance Company is one of Baltimore's most visible professional ensembles, performing frequently throughout the region and beyond.
"Inside Equality has an amazing array of artists both as choreographers and dancers," said Artistic Director Donna L. Jacobs who founded Full Circle Dance Company in 2000.
"They bring their own diverse set of experiences to this show. Little did we know when we selected equality as a topic how current it would be. We have a very current backdrop of issues surrounding The Supreme Court, Washington, D.C., and families with multi-religions in them. When we think about inequality in a broad way, there are so many issues touched on in this work. It is a jackpot there.
"While some people find these issues hard to talk about, we find that through the visual aspect, it brings about dialogue. This allows people who were hesitant, to now feel safe and comfortable discussing topics they found uneasy to discuss. Opening up dialogue is something that is incredibly rewarding for us and satisfying for our audience."
The show's gripping performances include the following pieces: The Ceiling; …skinned-deep; Dispositioned; My Story…; On Our Shoulders; Vows; and Healing the Broken System.
"The titles are glimpses into what you are about to see," said Nicole Tucker Smith, a dancer with Full Circle Dance Company. "What I really hope is that the audience sees the humanity aspects we are exploring. We want them to become a part of the experience. We want people to come to their own conclusions, as we explore issues and concepts through dance. As a dancer, the goal is not just to do steps, but bring life and movement, so people can feel they are a part of what is happing on stage."

Tucker Smith is the choreographer for On Our Shoulders.
"On Our Shoulders goes back to the 1800s," said Tucker Smith. "It looks at race and religion and fighting against injustice."
She added, "I have been dancing for 38 years, and have been dancing with this company for two years. I dance because I love it, and it is an essential part of who I am. It is very therapeutic and has helped us to explore some very challenging issues, while finding new ways towards hope."
Hope B. Byers is a leading dancer and veteran choreographer with Full Circle Dance Company. She is the creator of...skinned deep, an exploration of colorism and its origins in slavery and white supremacy.