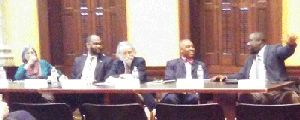 Moreover, Brown cited research finding that more of Baltimore City's budget is spent on the police force than other important areas like community redevelopment, arts, education, housing, roads and public transportation.
To conclude his in-depth lecture, Dr. Brown presented what he feels is a feasible solution for the number of problems he highlighted, which was a $3 billion Racial Impact Bond— somewhat of a reparatory budget, which calls for more funds to be allotted to vital areas that will help to rebuild black communities adversely affected by gentrification and other inequitable housing policies.
During the panel discussion after Dr. Brown's presentation, the topics of fair housing; infrastructural systems used to rebuild underprivileged communities; solutions to gentrification; challenging local government and policy makers were discussed.
The "Can We Talk?" series will be held at various locations across the city in the months ahead. The discussions will explore a variety of subjects important to the citizens of Baltimore and issues impacted by the work of the Office of Civil Rights.
Upon leaving the podium, Dr. Brown encapsulated his presentation by urging community members and leaders to take a firm stand against the deplorable inequities that have had such a grave impact on the city.