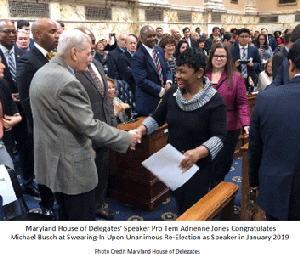 Surrounded by loved ones, the State of Maryland's longest serving Speaker of the House of Delegates, Michael Erin Busch, passed away on Sunday, April 7, 2019, after contracting pneumonia resulting from complications associated with a 2017 liver transplant.
Sworn-in unanimously as House Speaker for the 5th time on January 9, 2019, Busch, known as Coach by many due to his lifelong involvement in sports and athletics, was beloved and well-respected by political colleagues on both sides of the aisle for his conciliatory demeanor and reputation as a consensus builder.
Busch self-identified as a Progressive. He is on record that he was strongly influenced by his parents' values of inclusiveness, embracing equal rights as a result of lessons learned during the height of racial segregation challenged during the Civil Rights Movement in the 1960's.
He shared with the Associated Press in a 2002 interview that "[equality] was ingrained in me from my grandparents to my parents and through [turmoil of] the '60s." Busch recalls two pictures on the mantel in his grandparents' home— Jesus and Franklin D. Roosevelt. He said both his paternal and maternal grandparents "believed that Roosevelt gave average people a piece of the American dream," adding, "I really believe government is there to give people opportunity."
The Speaker's advocacy for equality also extended to the LGBTQ community.
"When I first got to the legislature, he wasn't somebody who worked against us. But he wasn't our ally," former Maryland state Del. Heather Mizeur said in an interview the Washington Blade.
However, after counsel with his daughters, Busch would become "our greatest ally," Mizeur said.
"He was pushing marriage before it was popular or easy to do, and I'm really honored that I had an opportunity to work under him," she informed The Blade.
As well, part of Mike Busch's recipe for success in Annapolis perhaps culminates from lessons learned as a young athlete. In 1969 during his junior year at Temple University in Philadelphia, Busch set a record as a running back, gaining 185 yards in a game against Bucknell University.

However, Busch's potential career as a professional football player in the NFL was sidelined by a leg injury. Before word of his condition became general knowledge, Michael received a letter from the Dallas Cowboys organization that read: "you are being considered by our ball club as one of our top draft choices."
Considering that the primary roles of a running back are to receive handoffs from the quarterback, to catch passes out of the backfield, and to block tackles, it has become clear that Michael Busch exported his formula for winning on the football field and carried them over into the field of politics.
He took bills quarterbacked by his fellow delegates and maneuvered them past the goal posts into law. Important legislation that might be meandering in the backfield of political gridlock were passed to Michael Busch and scored. Bills that he felt might be against his constituent's best interests in Annapolis were blocked and tackled.
Yet the converse is equally true. Mike Busch was not timid about crossing the aisle to support legislation from his political rivals that he recognized as beneficial to Marylanders. The quintessential team player, Busch earned a reputation for even-handedness in doling out committee assignments and giving fair hearing on issues to his Democrat and Republican colleagues, both long-time and freshman Delegates.