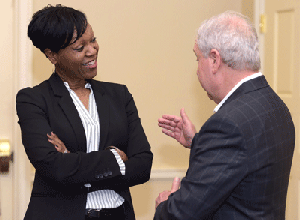 The University of Maryland Baltimore County (UMBC) received the Outstanding Organization Award from the nonprofit CASH Campaign of Maryland, Maryland Council on Economic Education and the Maryland State Department of Education during the sixth annual Financial Education and Capability Awards ceremony.
The Financial Education and Capability Awards Program highlights the dedication and success of public school teachers, community champions and outstanding organizations that deliver financial education throughout the state.
Other honorees include: the Melanie Stuart of "Middletown Middle School in Frederick; Mike Martin of Lansdowne High School in Baltimore County; Ronald Jennings of Café Montgomery in Montgomery County; and Daniel Zubrowski of Havre de Grace Elementary School in Hartford County.
"The award affirms that the work we are doing to increase awareness among our students about the importance of financial literacy and to provide our students with the resources and tools they need to make sound financial decisions is important and valued," said Dr. Yvette Mozie-Ross, vice provost of Enrollment and Planning Management at UMBC.
"If our students are to realize the full financial benefit of their college degree, we know that it will be important that they make good, sound decisions along the way, including decisions that have financial implications."
Originally from the District of Columbia, Mozie-Ross moved to Prince George's County with her family where she completed high school. She moved to the Baltimore area to pursue an undergraduate degree at UMBC. She graduated from UMBC with a Bachelor's in Health Science and Policy; earned a Master's in General Administration from the University of Maryland University College (UMUC) and a Doctoral in Education Policy and Leadership at the university of Maryland College Park. She has lived in Anne Arundel County for 25 years.
"I started the Financial Literacy and Education Committee in 2012 with a colleague," Mozie-Ross said. "My colleague has since left the university but our work continues strong with 15 dedicated committee members including students, faculty, staff and administrators and a number of external partners."
Financial education focuses on a range of financial management concepts and behaviors including budgeting, careers and income, credit, savings, financial decision-making, and understanding values and habits about money, according to CASH Campaign officials.
The awards were developed by the CASH Campaign, in conjunction with the Maryland State Financial Education and Capability Commission, to call attention to the importance of financial education to the lives of Marylanders.
"Good financial decisions are vital to strengthening the economic lives of all Marylanders, from youth to older adults. We developed the Financial Education & Capability Awards to call attention to this important issue," said Robin McKinney, Co-Founder & CEO of the CASH Campaign of Maryland. "We congratulate these award-winning teachers, community champions and outstanding organizations dedicated to helping people understand the importance of making good financial decisions for a better financial future."
For Mozie-Ross, the award that UMBC received underscores the importance of financial literacy, which was impressed upon her as a child.
"Having been raised by my mom, a single parent on a very limited income, I learned first-hand how important it was to make sound financial decisions and to manage your finances," Mozie-Ross said. "My mother was frugal in her spending, understood the importance of saving and taught us the importance of delaying gratification.

"Her unapologetic no-nonsense approach to finances laid the foundation for me to live a healthy and well-balanced life financially and these were invaluable lessons and I am committed to passing these lessons on to others."
For more information about the CASH Campaign, visit: www.cashmd.org