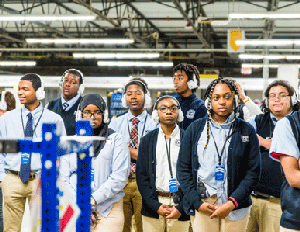 "Our focus is to make sure children and young adults have the skills they need to build their best future," said Flicker. "Coding and computer science are becoming imperative. There is a huge demand for this skillset and having it can lead to a well-paying career. We want to make sure more minority students have options to pursue that type of career and study."
Amazon Future Engineer is part of Amazon's $50 million investment in computer science/STEM education. In addition, Amazon Future Engineer has donated more than $10 million to organizations that promote computer science/STEM education across the country. Amazon made the announcement of the selection of KIPP Baltimore and other grant recipients on April 12, 2019.
"The grants are to inspire kids," said Flicker. "This funding will enable KIPP Baltimore to start a Robotics Club and increase computer science access. What stood out for KIPP Baltimore and the other schools was that they were already focused on expanding robotics and computer science in their schools, and were looking for ways to do this."
She added, "For this program, schools did not have to apply. Amazon was investigating what schools around the country could benefit from this program. There is great excitement in providing this kind of support to schools. We hope as a whole, more young people and children from underserved and underrepresented communities have the resources and skills they need to build their best future."
Accomplished inventor Dean Kamen founded FIRST (For Inspiration and Recognition of Science and Technology) in 1989 to inspire an appreciation of science and technology in young people.

"Amazon is helping FIRST in our goal to make robotics teams and programs available in every school," said Kamen, who is also president of DEKA Research & Development. "In FIRST, every kid on every team can go pro. They gain a hands-on learning pathway in technology, computer science and engineering that propels them forward and inspires innovation."