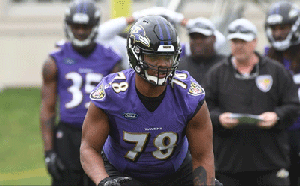 The Baltimore Ravens retooled their offensive line in recent years by adding left tackle Ronnie Stanley in the first round of the 2016 NFL Draft and Orlando Brown Jr. in the third round in 2018. Brown is entering his second season with the Ravens and is set to once again be the starter at right tackle.
Training camp got off to a tough start for Brown. He was not able to pass the conditioning test required in order to practice. However, head coach John Harbaugh likes the progress that Brown has made since.
"It wasn't like he was in bad shape. He was just heavy. He's done a really good job to knock that weight off," Harbaugh said. "He's still got a ways to go, but not too far. He's moving his feet a lot better than he did early in camp, I think as a result of being lighter."
The joint practices with the Jacksonville Jaguars have given Brown a chance to gauge where he is, as he gets ready for the season. Going against All-Pro Jaguars defensive lineman Calais Campbell was a big test. Brown enjoyed the competition.
"It's not often I get to face someone that's similar to my height. It's awkward for me because of leverage. I'm used to blocking smaller people," Brown said about the 6-foot-8, 300-pound Campbell. "It felt good. This is the NFL and we play in this league for a reason. It's a lot of fun."
Brown joked that he hasn't blocked many guys as big as Campbell but he mentioned Shaun Oakman from Baylor and Carlos Dunlap from the Bengals as guys he went against who were the same size as him.
There were question marks about his athleticism after a subpar showing at the NFL Scouting Combine. The failed conditioning test this summer didn't help but Brown fought through it and used it as motivation.
Brown inherited his massive size (6-foot-8, 345 pounds) from his father Orlando Brown Sr. The 6' 7," 360-pound offensive tackle was one of the biggest men to play in the NFL. He even earned the nickname "Zeus."
Being one of the original Ravens when the team moved from Cleveland, Brown left big shoes for his son to fill. As a second year player, the younger Brown is ready to take the next step. It won't be easy but he is up for the task.
"It's a grind. At the end of the day, I understand that long term I want to get to a certain level and it's going to take a lot of work," Brown said.

Even though there is a new system in place, Brown is leaning on his rookie year in the NFL as a learning experience. He likes the aggressive attack that new offensive coordinator Greg Roman installed.
"It's different now. Knowing the playbook [and] understanding my skill set a lot better. The system under G-Ro (Greg Roman), he is going to put me in a position to go out there and do what I do best. It's different now. Knowing the play book, understanding my skill set a lot better in this system and this setting now. I'm just continuing to grow with my fundamentals," Brown explained.
The fundamental growth will be huge for the Ravens, a team that relies on the offense to make strides with quarterback Lamar Jackson under center.