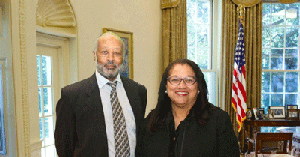 What quickly happened was devastating. The Obama Administration went "dark" over the 8a Program. Black procurement levels at the time George W. Bush left office were over eight percent. When Obama finished his two terms it had been reduced to a little over one percent. People, we are talking billions of dollars extracted from our communities. SBA Regional Administrator Ashley Bell spoke at our recent annual conference and emphasized the reduction in black procurement due to the reduction in active black 8a firms. The same can be said for SBA business loans. It was just devastating and most of the black community does not know what "hit" them.
What was particularly "salt in the wounds" was that the SBA under the Obama Administration became very hostile towards Black business. At one point, the SBA would reject our emails to them. They took their budgets for funding development grants away from black associations and tossed them around to non-black groups. There was pure hatred over there during those eight dark years. How could blacks do this to other blacks in the 21st century?
Let's get busy with turning this atrocity around. We must encourage the White House and federal agencies to quickly "pick up the pieces" and bring the 8a Program back to life and with vigor and updated goals. If black firms could attain at least five percent in procurement contracting with the federal government that would mean $25 billion dollars annually infused into our economic base. There is a federal election coming in 2020 and we must make significant improvement while that environment exists. It is time for blacks to address each political candidate with that great quote from Chaka Khan: "What Cha' Going to do for Me."
Harry Alford is the Co-Founder, President/CEO of the National Black Chamber of Commerce ®. Kay DeBow is the Co-Founder, Executive Vice President of the Chamber.