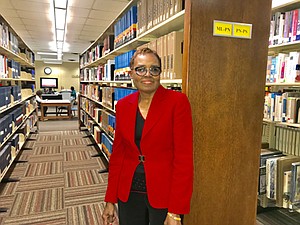 After graduating from Forest Park High School in 1968, Virgie Williams knew she wanted to go to college. She recalled the factors that helped determine where she would further her education.

"I was nervous about going to a four-year college," recalled Williams. "I also wanted to attend a school that wasn't too far from where I lived. I decided to attend Baltimore Junior College. It was close to where I lived. The school was excellent and felt like home to me. I majored in Computer Science and was blessed to get a Work Study position working in the school's library.
I graduated in 1970. The exemplary education, mixed with all the fun times, blossomed into a job opportunity. I was hired as a full time Library Assistant."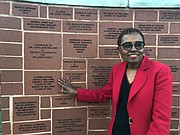 She added, "At the time, they were transferring from manually checking out books to computers. We used punch cards."
Nearly 50 years later, Williams is still working at the college which is known as Baltimore City Community College (BCCC). She has seen the school change its name, new presidents take the helm, and much more. She even met her husband, Arnold Williams at the school. He is now a managing partner with the accounting firm Abrams, Foster, Nole & Williams.
"It just so happened that my girlfriend and I were in the cafeteria," recalled Williams. "I pointed Arnold out to my girlfriend, and said, 'that's the guy I'm going to marry. That was 47 years ago."
Williams will retire on January 1, 2020. June of next year would have marked 50 years at BCCC, which is located at 2901 Liberty Heights Ave. BCCC is the city's only community college, and Maryland's only state-sponsored community college.

"BCCC is a great institution," said Williams. "It's a diamond in the rough that specializes in workforce development. All students have to do is take advantage of the opportunities and resources that the school offers. You can't help but succeed. Some people downplay two-year colleges. But it's a good road to travel to be successful."
Williams is the Assistant Director and Head of Circulation of the BCCC Library.
"When I came to the campus, I was helped," said Williams recalling her college days. "Now I am helping students. I thank the Lord for the opportunity. This is the first place people stop on campus. It's important for us at the front desk to set the example for the college. If someone comes to the desk and asks where a building is, I take them there, or get them as close to it as I can. I also tell them to call or come back to let me know they got what they needed."
She added, "We don't want anyone leaving and not getting what they need. If they get bad service, they will tell other people and it doesn't look good for the college. Good communication skills and follow-through go a long way. We are here to help students reach their goals."
Williams, her husband, and their daughter Stacey are all graduates of BCCC, which she calls "A Family Affair." As a way of giving back to the college, the couple established the Arnold &Virgie Williams Endowed Scholarship.