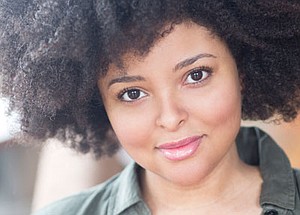 While her character "Violet Beauregarde", hails from California, the 26-year-old Williams grew up in Maryland.
"I am a native of Columbia, Maryland," said Williams. " My dad was in the Navy, and moved to Maryland. My parents loved Maryland so much that they never left."
Williams said her theatrical career began at a young age.
"My mother auditioned for a dinner theater," recalled Williams. "While she was there, the director told my mother they were looking for a little girl for a production and to bring her, if she knew of someone. My mother told the director that she had a daughter that had never done any acting, but was cute and well-behaved. I was six at the time. I was cast, and have been performing ever since. I fell in love with being on stage, singing, and dancing."
Williams has participated in shows at Tobys Dinner Theater in Columbia, Maryland which include Annie and Big River. Broadway credits include Spongebob Squarepants, Bye Birdie, How the Grinch Stole Christmas, In My Life, and Chitty Chitty Bang Bang. Off-Broadway credits include David Bowie's Lazarus, and Freedom Riders, while television and film credits include "Naked Brother's Band", "Between the Lions", and "Finky's Kitchen".

"I was involved with Toby's Dinner Theater and the Columbia Center for Theatrical Arts," said Williams. "I grew up under their wings as an actress. When I was eight, I started auditioning in New York, but whenever I got the chance, I came back to do shows at Toby's or with the summer camp."
She added, "I just finished doing my sixth Broadway show. My ultimate goal is to perform as long as I possibly can. I want to share what I know with the next generation of performers. That's the most beautiful thing about being in stage. With every person there is a chance to inspire someone. If I can give back and teach someone, I can use what I have for good."