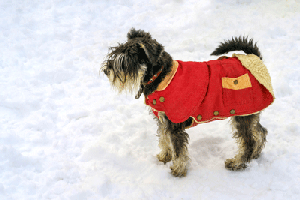 continued — 9. Secure and brace outdoor gates and fences that could break from strong winds and snow.
10. Less time outside may mean a bored pet. Increase your animal's indoor enrichment! Frozen kongs, food puzzles, and training games all provide mental exercise to tire out a pet who can't get outdoors.
11. Cuddle up! Cold weather is the perfect time to spend snuggling and playing with your pet.
Here are two more tips for pets that are not your own:
1. When getting ready to start your car, tap on the hood first. Why? Outdoor cats and other wild animals like to hide under car hoods overnight because it is warm! Warm engines in parked cars attract cats and small wildlife who may crawl up under the hood. To avoid injuring any hidden animals, bang on your car's hood to scare them away before starting your engine.
2. Speak out if you see a pet left in the cold. Here is advice from the Humane Society of the United States on how to handle the situation when you see a pet left in the cold. First politely let the owner know you're concerned. If they don't respond well, document what you see: the date, time, exact location and type of animal, plus as many details as possible. Video and photographic documentation will help bolster your case. Then contact your local animal control agency or county sheriff's office and present your evidence. Take detailed notes regarding whom you speak with and when and respectfully follow up in a few days if the situation has not been remedied.
The Baltimore Humane Society (BHS), founded in 1927 by Mrs. Elsie Seeger Barton, is an independent, non-profit, no-kill animal shelter, which offers low-cost veterinary care to the public, and a pet cemetery with grief support services. The BHS receives no operational funding from the local or federal governments, or any national animal welfare organizations. For more information about BHS, and how you can contribute, volunteer, adopt or foster, visit: www.bmorehumane.org or call 410-833-8848.