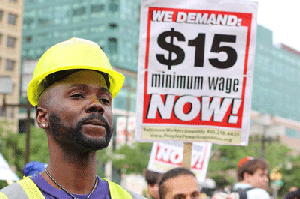 increase by only 1.6 percent to give fifteen restaurant employees each an extra $2,000 per year under such a change.
"That money goes back into the local economy," England said. "Raising the minimum wage up to fifteen dollars over a period of time is the right thing to do
because it's going to take pressure off the social safety net, and it's right that people should earn enough money to live. They shouldn't have to rely on food banks and [other public services] to get by."
A fifteen dollar minimum wage is not a brand-new proposal in Baltimore City. In 2017 the City Council voted in favor of a gradual increase in the city's minimum wage to $15 per hour, but the measure was vetoed by Mayor Catherine Pugh.
Former state Delegate Donald C. Fry supported Pugh's veto, arguing that wage increases at the city level would have negative economic impacts. Fry is now the president of the Greater Baltimore Committee (GBC), a group of local businesses and civic organizations.
The GBC expressed support for the current bill on the condition that it adopts a number of amendments, including eliminating provisions that raise tipped wages and protect seasonal and youth workers. It also expressed desire for an extended timeline for some businesses to implement the new wage.
"Small and mid-size employers need additional time to plan and adjust to ensure their financial stability and future growth. Otherwise, they may face hardship," said Fry in a press release.
Jones, however, emphasized that citizens should put pressure on their representatives to vote for a "clean fifteen"– a bill with no such amendments to the new wage law.
"[We need] a bill that covers the most people," Jones concluded, "meaning that there's no carve-outs, no exceptions, and we're not leaving big groups of workers behind."