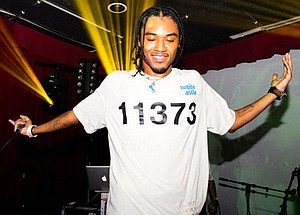 By the time Butch got to the stage the energy was peaking, the sweat was pouring and it felt much more like an evening in July than three days before New Year's Eve. It seemed like everyone came out to see him. He played his hottest tracks of the year, mostly from his eight-track album, "Swamp Boy," released at the end of August and the place was an absolute riot.
Then, suddenly things changed. A beat dropped. Phones started to come out of pockets with flashlights on to indicate they were recording. This was Butch Dawson's moment. He owned the crowd and he leapt into "Feel Nobody" with the full force of dozens of people shouting the words that he penned about being alone.
By bringing together various acts from the area, Butch Dawson and his friends were able to do more than simply get booked to perform a concert. It showed that the local music community is able to come together to support each other. Everyone came together to get behind these guys and their talents. Even for the lesser known, the excitement was clear to see.

Baltimore, support local talent and let's see just how far they will go with just a little bit of belief in themselves.
Photos by Gustavo Marinho, Follow him on instagram @mr_gustavo and check out www.mrgvisuals.com for more images of your favorite artists!