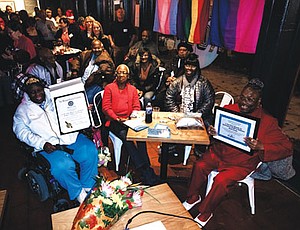 According to CBP, this creates a vicious cycle of perpetuating the lack of meaningful investment in their commercial districts. In the Fall of 2018, CBP commenced a work group that included their partners from the Baltimore Arts Realty Corporation, Baltimore Community Lending, Jubilee Baltimore, Latino Economic Development Corporation, and The Reinvestment Fund to help identify a financial assistance product that would foster small-scale commercial development in their commercial districts.
After many conversations with business owners, developers, community members, and stakeholders, the group recommended creating a business program that was modeled after the Southeast Community Development Corporation's Tenant Fit Out Grant Program and the Great Street Initiative's Retail Small Business Grant & Neighborhood Prosperity Fund in Washington D.C. Thus, The Neil Muldrow Business Development Fund was born.
"Neil was great at identifying barriers for minority-owned businesses, and coming up with strategies to overcome those barriers," said Janes. "That's what the Neil Muldrow Business Development Fund is all about. It is not easy to start up a business, and it is very difficult to thrive in an area that has been neglected. Mr. Muldrow understood that."
Muldrow retired from the Development Credit Fund in 2005, after serving for 22 years. During its existence, the Fund lent nearly $40 million for working capital, equipment and machinery.

In addition to Central Baltimore Partnership, Muldrow served on numerous other boards, which included Bon Secour's Hospital, and Walters Art Gallery.
"We want to keep Central Baltimore affordable, attractive, and a place where everyone can thrive," said Janes. "Our mission is unique. We have a great model for other communities. They can learn from what we have done, and are trying to do. We are hopeful that The Neil Muldrow Business Development Fund will also follow this model and be something other communities can replicate."
For more information about the Fund, email Jack Danna, Director of Commercial Revitalization at jdanna@centralbaltimore.org or call 410-702-5193.