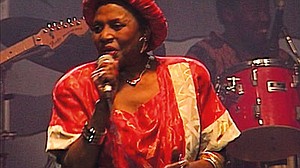 "I think AfroPop allows or provides an opportunity for filmmakers to really grapple with complicated issues that are facing black people."
Each season has a different celebrity host. This season, Danielle Brooks will be the hostess and will be chiefly responsible for uniquely introducing the series' five episodes. Brooks was approached by Fields-Cruz and series director Duana Butler, and agreed to host without hesitation.
Previous hosts of AfroPoP have included Idris Elba; Anika Noni Rose; Wyatt Cenac; Gabourey Sidibe; Anthony Mackie; Yaya DaCosta; Jussie Smollett; Nikki Beharie; and Nicholas L. Ashe.
This season will premiere on Martin Luther King Jr. Day, Monday, January 21, 2019 at 8 p.m. on the WORLD Channel, which is offered on most cable television providers. New episodes will air every Monday through February 18, 2019.
Tucker, moreover, accentuated the necessity for cross-cultural understanding in regards to the enlightenment AfroPop will provide for those unfamiliar with black culture.
"And also for people who are not black, I think it's important for them to have a better understanding of different aspects of black life, just to understand us better."
Throughout AfroPop's offseason, episodes from this season will be rebroadcast on various channels. Tucker has been with AfroPop since 2011. She explained how the series has evolved, especially in its delivery to diverse audiences.
"One thing I would say is the internet has played a big role in letting more people have a better understanding [and] know how to find the series, and kind of raise the profile of the series," she said.
"I think every year more and more people know about that, and that only benefits not only the films but the filmmakers. And I think we've always been really fortunate to get talent who also kind of helped raise the profile of that."
The main topics covered in the upcoming season of AfroPop will include a look into the genocide in Rwanda, black politicians in the U.S., "a law enforcement unit in charge of fighting against abuse of Congolese women and children" activism against apartheid in South Africa and black cultural identity.
The single greatest aspect of AfroPop, said Tucker, is that it sends a message that the black community is not monolithic.
"There's no one set of experiences that are singular to the black community," she said. "So what this season rolls out— you're able to really see that first hand by traveling all over the world."
Tucker said she expects the docuseries gives the black audience an experience it will never forget.
"I hope that [black America] not only gets to see different parts of the world, but also what different characters felt."
Viewers can find more information on the series, by visiting www.blackpublicmedia.org, http://afropop.tv/ or following them on Twitter (@BLKPublicMedia) or on Facebook. For viewing information, check local listings or www.APTonline.org.