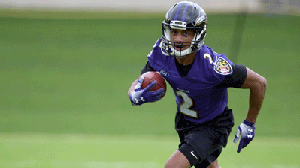 Anyone who has been an earnest fan of the NFL will see a blast from the past when the Baltimore Ravens rookies report for training camp next week.
Undrafted free agent Joe Horn Jr. will be one of the wide receivers to take to the field. Like his son, Joe Horn Sr. was a long shot to make it in the NFL.

Horn got his start in professional football when he landed on the practice squad for the then Baltimore Stallions of the Canadian Football League (CFL). He then spent 1995 with the Shreveport Pirates and Memphis Mad Dogs before being selected by the Kansas City Chiefs in the fifth round of 1996 NFL Draft. Horn caught on with the New Orleans Saints and made it to four Pro Bowls.
Almost 25 years later, the younger Horn is looking to take a more direct path to the NFL in the same city that introduced his father to professional football. Horn Jr. has a striking resemblance to his father. The rookie out of Missouri Western State only posted 15 receptions for 246 yards in 11 games against Division II opponents but he did enough to earn himself an invitation to camp. The coaching staff were impressed with him.
"Joe Horn Jr. looked really good. I guess the thing that struck me about him was he looked like Joe Horn. His son looks like him: quick, fast, really good hands, in and out of his breaks," Head Coach John Harbaugh told ESPN during rookie minicamp.
The elder Horn was a stickler for proper technique. Before he tried out for the CFL, Horn obtained, a Jerry Rice workout tape, so he could study the drills and learn the technique that Rice used in the video. Playing with proper technique helped him play well enough to earn a spot in the Saints Hall of Fame.
The technique that he played with was passed down to his son. It showed during rookie minicamp when Horn excelled on the football field with the same #87 that his father wore.
"You can tell he worked with his dad a lot on technique. I thought he looked excellent," Harbaugh said.
The Ravens have a young group of receivers, so landing on the final 53-man roster is going to be tough. Horn will give it his best shot and see how things workout. Who knows, perhaps his first experience, as a pro will be on a practice squad for a Baltimore professional team just like his father.